Do you like cookies? Christmas cookies or a cake?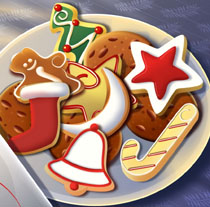 New Zealand
4 responses

• United States
13 Nov 09
I like cookies more then cake at Christmas time. Cookies are more of a holiday treat then cake seems to be and candy.


• New Zealand
13 Nov 09
ok.. I can see thats two people for cookies.. thanks you are a great help to me. I think I should go with cookies then.. and you are right more to go around.

• Philippines
15 Nov 09
i would prefer to have a chocolate cake for christmas. i love chocolate cakes.

• Spain
13 Nov 09
apples and guavas are good for christmas. visitors and carollers may just pick and does need no plates or any utensils to be washed after having it.