life spand of banana inside your fridge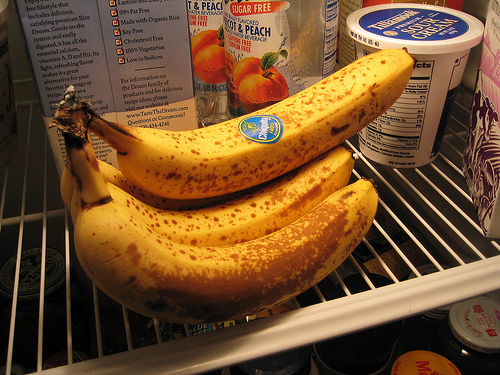 Canada
November 14, 2009 1:54am CST
i posted yesterday how long can milk stand in the fridge after they are opened, now i got another issue, i got 4 banana inside the fridge and i think it was covered with some stuff inside the fridge so i forgot to comsume it, the banana is a week old, so is it still ok to eat this banana?

4 responses

• Philippines
14 Nov 09
Actually bananas in our house does not last long. my youngest can eat four pieces in one sitting. So if I buy banana in two days it is all eaten up. My children 13-daughter and a three year old son loves eating fruits. sour or sweet fruits then munch it all up. just like little pacman. hahaha there are no wasted fruits in our house.

• Puerto Rico
14 Nov 09
I wouldn't eat them because I don't like overly riped bananas, but thats me. What I do when my bananas get to riped I make banana bread so they don't go to waste.

• Puerto Rico
14 Nov 09
Banana Bread Recipe 1/2 cup of shortening 1 cup of sugar 2 eggs 1 cup of mashed ripe bananas 1 teaspoon, lemon juice 2 cups of sifted flour 3 teaspoons of baking powder 12 teaspoon salt Cream shortenin and sugar together. Beat eggs until light and add. In a blender add bananas and lemon juice, liquify. blend with creamed mixture. Sift flour, baking powder and salt together and mix quickly into banana mixture. Bake in greased loaf pan on 375F for about 45 minutes or until golden brown.


• United States
14 Nov 09
Bananas like the climate of the very very tropical equator, so you should never put bananas in the refrigerator~~ Unless you are trying to get them to turn black so as to make banana bread etc.

• Italy
27 Nov 09
A cold banana is not nice either

They are so much better at room temperature