Is it ideal to save money in a piggy bank?

Philippines
November 14, 2009 11:31am CST
Saving money is a trait that our parents thought us. Many of us deposit it into a bank to earn interest. Others put their savings into a money market to earn an extra dividend. But still, there are a lot, save and put their savings into a what you call "piggy bank". Generally, they just keep it using a piggy bank and just kept the whole at their home. Since, they are quite afraid to deposit it into the bank due to some bankruptcy reason. Is there any ideal way on how to save money or where to put your hard-earned money? Is it safe to save it inside a piggy bank or entrust the amount to a bank to earn interest?
5 responses


• Philippines
14 Nov 09
Hi Lidiam84. Its nice to have both. You can have a big savings in the end. Happy Mylotting.

• India
17 May 10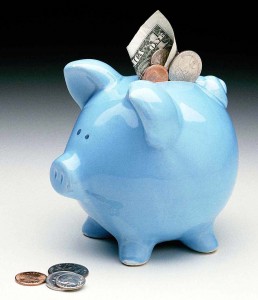 It is always a good idea to deposit some money everyday in a piggy bank. I have been doing this since childhood. It builds up slowly but it benefits in the long run. It is a wonderful habit to inculcate since childhood. I usually save a small amount everyday, and when I come back home I put it into my piggy bank - one my mother gifted me 10 years ago.

When the balance accumulates,though slowly,I take it and deposit it into my savings bank account periodically. This system has profited me since I have followed it as a daily habit. I hold a savings account with a nationalized bank and not a private one,which ensures that there is less chance of the bank failing. Thus,in my opinion the ideal way to be safe in money matters is take a small amount of your daily expenditure and deposit it somewhere,may be first in your piggy bank and then when it reaches a specific amount,you can deposit it in the bank which will obviously pay a certain interest on that money. Have a great day!


• Philippines
15 Jan 10
it is better to have both. when you deposit it in the bank, you will get interest and it will be protected really. if you save in a piggy bank it will make you feel good that you are saving something. What is really important is you do your best to save money.


• United States
15 Dec 09
I don't think there is an ideal way to saving money. Any money that is saved up either in the bank or in a piggy bank at home is good.