Pacquiao bags 7th world title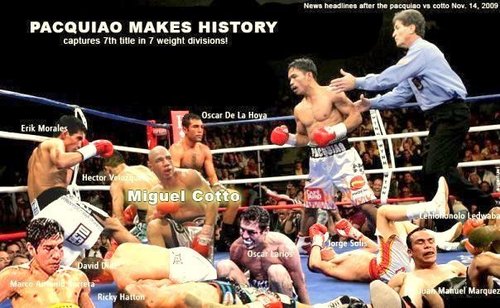 Philippines
November 15, 2009 9:50am CST
[i]A real winner must not be undefeatable, he must be undaunted. [/i] Manny Pacquiao just made another history. After forcing the Golden Boy Oscar De La Hoya to retirement and knocking out Ricky Hatton in the second round, earlier today, Pacquaio just managed to get his 7th title from Puerto Rican and WBO Welterweight champion Miguel Cotto. After 12 rounds of bout, Pacquiao won by a Technical Knock Out. P.S. Cotto, you defended your title with so much effort (to the point of hitting below the belt) I am about to admire your fighting spirit but with your dirty tactics, na-uh!—-never mind. In the end, the fair man will win the game-- and it did. PACMAN is our man. Congratulations MP! :) Check the photo I added. Credits to whoever did this photo collage. :)
4 responses

• Philippines
15 Nov 09
Yay! Another One! PacMan is a Legendary Hero! hahaha! 7th title thats really something right? coz he will be remembered through out boxing history!

• Philippines
16 Nov 09

well, even though he lost, people would still be proud of him since he's strong and went six different world titles. this going and went for the seventh really makes him a legend now and this time is his prime. i hope there will be a new pacman but maybe not as the same as pacquiao because manny is one of a kind




• Philippines
16 Nov 09

hello there, there's no doubt that we actually do become proud of having a Filipino Lifting their spirits. i just hope they create a boxing game and add manny pacman into it. or better yet they should have figure toy for pacman too. and the best thing now a days is that they know that he has a movie and first in the talk show and then in the arena after his fight with cotto asking if there's a wapakman two



• Philippines
19 Nov 09
Its a record to beat and it will surely take a long long time before that record is broken. I don't think another Pacquiao will rise up anytime soon or at least not in his generation. Pacquiao is already a living legend in the world of boxing. Pacquiao is now a superstar and his name is already considered larger than life in the boxing world i hope he will take care of that name since considering his fame at the moment other people may take advantage which would lead to wrong moves in his part which can cause damage if not ruin his reputation. Cheers!