I have a recepie for all you women who want to impress your man.!!!!!!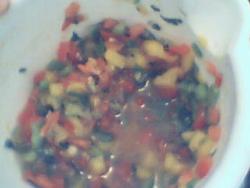 United States
November 14, 2006 3:34pm CST
HOISIN-MARINATED FILETS MIGNONS WITH NECTARINE SALSA has been sent to you from me yumm You can view the complete recipe online at: http://www.epicurious.com/recipes/recipe_views/views/101515 HOISIN-MARINATED FILETS MIGNONS WITH NECTARINE SALSA For marinade 1 scallion 1/4 cup hoisin sauce 1 1/2 tablespoons soy sauce (preferably Kikkoman) 2 teaspoons grated peeled fresh gingerroot 1 teaspoon Worcestershire sauce four 1 1/4-inch-thick filets mignons (tenderloin steaks) For salsa 1 large firm-ripe nectarine (but i used mango, which i think is better, but you can use peaches or pears) 1/2 green bell pepper 2 medium tomatoes 4 scallions 2 garlic cloves 1 small fresh chile (preferably habanero) 2 tablespoons fresh lime juice, or to taste Make marinade: Finely chop scallion and in a bowl whisk together with remaining marinade ingredients. In a large heavy-duty sealable plastic bag combine marinade and steaks, turning steaks to coat with marinade, and seal bag, pressing out excess air. Marinate steaks at room temperature 1 hour. Make salsa while steaks are marinating: Finely chop nectarine and bell pepper. Seed and finely chop tomatoes. Thinly slice white and pale-green parts of scallions and mince garlic. Wearing protective gloves, discard seeds and ribs from chile and finely chop chile. In a bowl stir together all salsa ingredients and season with salt and pepper. Prepare grill. Remove steaks from marinade, discarding it, and grill steaks on an oiled rack set 5 to 6 inches over glowing coals, 3 to 4 minutes on each side for medium-rare. (Alternatively, grill steaks in a hot lightly oiled well-seasoned ridged grill pan over moderately high heat.) Transfer steaks with tongs to a platter and let stand 5 minutes. Serve steaks with salsa.
1 response

• Poland
13 Jun 08
I think I will steal this recipe from all the womans of the mylot.com and I will make this special something myself... muahaha... It should be quite tasty.