about euthanasia...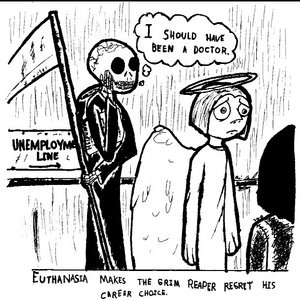 Philippines
November 20, 2009 12:15am CST
Euthanasia... is it a part of life or is it a criminal practice for humans to willingly end another person's life? Some countries in Europe the doctors there are allowed to perform euthanasia for their patients and for other countries it is completely taboo subject. I personally would opt to be euthenized if there ever was no more hope and maybe donate my organs after death if given the choice...
2 responses

• Indonesia
20 Nov 09
as far I know, the only country that has Euthanasia Law is Dutch. It was applied with great caution. until now euthanasia (lethal injection) can not be done in Indonesia as they are not regulated by law (Act). but if the patient or the family wanted it, can apply to the court. If approved euthanasia can be performed only by physicians Indonesia

• Philippines
20 Nov 09
it is an issue that is heavy, what is allowed in one country is criminal in another...

• India
20 Nov 09
It should be a part of life....Coz it is good to be euthenized if the person is suffering vry much wthout any hope and he himself wants then he should be euthenized....But some things tht the life is given by god and should not go against tht thing,they believe it is a sin...But i think if there is no no no hope and you hve tried each and evry evry thing and then there is none thing left thn solution euthansia....:-)

• Philippines
20 Nov 09
yes and that euthenasia is also a crime, even if ther was no hope you will still end up in jail...