Survior Series Results/Recap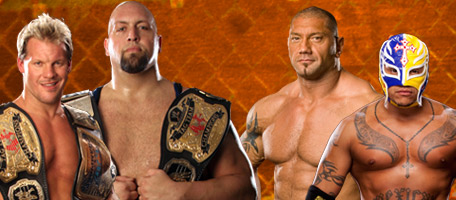 United States
November 23, 2009 8:55am CST
Mickie James squad defeated Michelle McCools squad. Beth Phoenix didn't like being eliminated and came back in to get another shot, was eliminated again. Melina pinned Michelle McCool for Team James Victory. Miz-ery strikes again. Evan Bourne and Jack Swagger started the battle off first, Evan got Swagger but then Dolph Ziggler came in to attack Bourne. Then we have brand clashing, choas and many pinfalls with Sheamus, Finlay, Drew McIntrye, Morrison and Miz all in the ring. Even the Referee Scott Armstrong was in the midst of the action and was thrown out of the ring. After everything settled, Morrison was caught in the ring alone against Sheamus, Drew and Miz. Morrison couldn't compete with these three and was pinned by Sheamus giving Team Miz the victory. Batista defeated Rey Mysterio. Rey had a good start on this match, then all turned around. Batitisa let all his anger and emotions out giving Rey a spear, spinebuster and three (3) Batista bombs. The Ref called it quits but Batitsa didn't listen and gave another spinebuster on a chair, leaving Rey motionless and carried out on a stretcher. Kolfi teams won!!! They took out Cody and Ted at the beginning of the match and then Orton RKO'd Mark Henry to start out the battle. In the end it was Kolfi, Cm Punk and Orton. Kolfi pinned both of these and gave Kolfi's team Victory. Undertaker retains his title. Big Show taking out his own teammate at the beginning, then taking him out with the big right hand when Jericho tried to get the Undertaker in the walls of Jericho. Undertaker got Big Show in the Hell's Gate Hold and got victory. Cena retained his title against DX. HBK got a SweetChin Music on his own partner to start the match out putting Cena in shock. After some inside ring actio, The Game gave HBK a spinebuster on the announcers table, then The Game decided to put some punches to Cena, with both Triple H and Cena fatigued and wore out Michaels comes back to the mix. Cena gets on top of ring, lands on Triple H and tries to pin and Michaels wants to pin also, so Cena gives HBK some attitude adjusting ontop of his own teammate, Cena finally gets to pin the Game.
3 responses

• Philippines
24 Nov 09
Wow. it is too bad I did not get to watch this pay per view. I do hope that DX will still be together after this but I guess they are still together because they are in the next pay per view, they are competing for the Unified tag team championship belt against Chris Jericho and The Big Show in a TLC Match. I can't wait for that one. Unfortunately for DX though, I am more of a Y2J fan than a DX fan so I am rooting for Jericho. lol.


• United States
24 Nov 09
Yes, DX is still together they knew they would have done it to each other for the belt. They know the stakes. This was a pretty interesting PPV, but I like the TLC one coming up next and the Cage PPV's. We will see what will transpire!!

•
4 Dec 09
I really am interested writing about the Diva's traditional elimination tag team during this year's Survivor Series. As far as I remember, last year there was also a match like this, but I think this year it is better. When I watched the match highlight on the internet, I could see that some divas 'surrendered' themselves, in the mean that they let themselves being pinned by the opponents which for me it looked so stupid. For example, when Alicia Fox was pinned by Mickie James, as well as Jillian when she was being pinned. That wasn't the wrestler should have been performed in the middle of the glorified ring. It is pretty pity the WWE is making Michelle McCool as Women's Champion now. I completely disagree with that, remembering who she was back couple of years ago. She was 'nothing' and now she seems the 'strongest' one. I feel sorry for that. I really miss the times when divas really wrestled.