Do you like the Cheesy Bites from Pizza Hut, UK?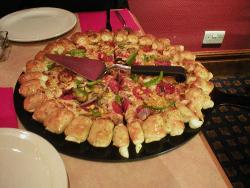 Israel
November 14, 2006 6:19pm CST
Although they looked fabulous and I was dying to have them, they turned out impossible to eat at a single meal by me and my boyfriend, and, in the end, we gave them up, took them in a doggie bag and threw them away three days after. They still look good, though.
4 responses


• United States
15 Nov 06
I don't know. Why don't you send me to London so I can try them and tell you? --- --- --- "I certainly think Britney Spears is the devil. The way she projects herself and the fact that she is so obviously vacuous. I think it's such a shame that she became so influential to very small children." -- MORRISSEY --- --- ---

• United States
15 Nov 06
Sorry, that was supposed to have a "haha" and :) to let you know it was a joke. But then again, if you really wanna send me to London, I'd take you up on that offer and REALLY appreciate it! LOL :)