Do you have any weird or strange phobias?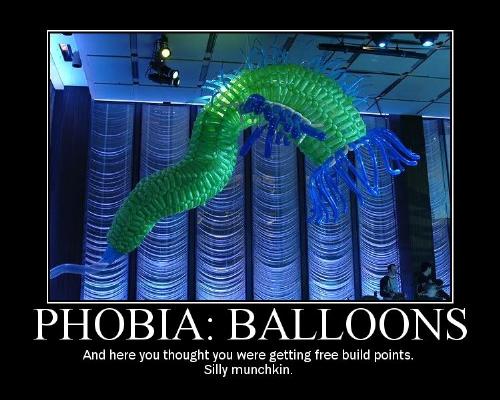 November 30, 2009 3:24pm CST
From a very young age i've always had a phobia of.........(don't laugh or lol)..................balloons..:-( Its strange since as a child I loved to play with balloons and I remember I always nicknamed my balloon "ballooney"......yep I had quite the imagination:-P I don't really know how it started really. The only bad experience as a child I had with balloons was when one burst in my face but I still didnt fear them then. It annoys me since when im at parties I start sort of hyperventilating and I have to put my fingers in my ears most of the time... I dont know what it is...I cant blow up balloons...I cant stande children scraping them or having them in general and bursting them gives me a heart attack....;-( The strange thing is I dont have a fear of helium balloons though. I looked up a balloon phobia and its known formally as globophobia ...... cool name:-P So do any of you have a phobia of balloons? anyone have an uncommon phobia? Anyone have a common phobia? If so please write down your phobia and how it affects you. Even if you dont you can tell me what you think of globophobia.:-P
3 responses

• United States
30 Nov 09
I think there's a different name for fear of balloons popping which is what I was afraid of as a child. I think there was one time a balloon popped and I got scared, so whenever someone messed with balloons when I was younger, I was quick to run if one popped, or either way I'd be intrigued yet scared at the same time. Now, it surprises me but I'm not really scared of it anymore. I can blow them up and tie them up as well without any problems or fears of them popping. I guess it's something you grow out of, or if you didn't fear before you grow into. Almost like foods, sometimes you like tomatoes, sometimes you don't! Welcome To Mylot by the way Puttycat1!

•
30 Nov 09
Thanks for your lovely comment. I developed the phobia while growing up so I guess it would be hard for me to get past ;-( Also thanks for the welcome! :-) I love it here already! Ps. I hate tomatoes :-P

• United States
1 Dec 09
I am always happy to welcome new memebers! This site can be highly addicting! I've had a love hate relationship with tomatoes. Sometimes I loved them, sometimes I hate them!

• Southend-On-Sea, England
30 Nov 09
My own phobia isn't that uncommon (thunderstorms), but I used to know somebody who was scared of small food-orientated stuff such as melon pips, baked beans, lentils, nuts chopped up very small.

• United States
30 Nov 09
I actually fear balloons as well. I think it started when I was a teenager and I was in the backseat of my mom's car with about 20 helium balloons. I don't know why but they started popping on me and it was really painful. Ever since then I can't stand being near a balloon. I can't even blow them up for my daughter. She probably thinks I'm crazy!