During winter How often you make the coffee??? for your family!!!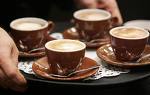 India
December 3, 2009 11:47pm CST
Usually I love to prepare the coffee in a bit elaborate manner somewhat in the fashion of cappuccino i.e. to say good amount of white forth above and beneath it the actual one to sip it off.There could be numerous way but I prefer for the human way of love and labor and time as one of the main ingredient, so follow me if I sound okey,b'coz culture comes into effect too. I took hell lot of time to prepare it hence I am not allowed to do it as frequently as I like to do so but when I do it I do it by taking a good amount of sugar in a cup and quite a bit of coffee along with very small amount of water say just a few drop or so and then I start to stir it and stir it and stir it until the forth starts to come out of the container,this part is very time consuming and laborious,now the next step is just to snip a spoon full of stirred coffee to the serving cups,the last step is to pour the pure boiling milk from a height of 20 to 30 inch on each serving cups to make it really frothy,Now you are ready to gooooooo for your sipping r u ready???
1 response

• Philippines
4 Dec 09
Hi. We are living in a tropical country. During regular seasons, we just drink coffee in the morning and during break times. But during Christmas seasons like this, the weather is especially cold so my family could consume three to five cups of coffee a day. Most of the time, we go for instant coffee or, buy coffee from a cafe like Starbucks and the likes.

• India
4 Dec 09
Its really good to know that you people have coffee in a plenty full.During Christmas yes its a festive season now which makes the whole atmosphere more romantic along with the coffee. You haven't told us the experience of preapearing and serving the coffee with the family...... it would have been better if you had shared the experience with us.