How To Stay Beautiful During Pregnancy?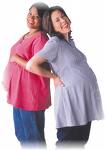 India
December 7, 2009 2:52am CST
Hi friends, My friend is 5 months pregnant. She is feeling like her skin has lost its radiance and glow. It appears dull and she is feeling like she has lost her beauty. She is finding difficult to accept this changing fact. Do you have any ideas of how to stay beautiful during pregnancy?
2 responses

• Philippines
7 Dec 09
Hi priya! May I ask, is your friend's baby a boy or a girl? Because usually, when a pregnant woman is having a boy, the mother's skin becomes dull and ugly. Well, that's what most of my friends and elders experience at least. But if the pregnant woman is having a girl, they say that the mother's skin would be at its best glow. Anyway, I'm not so sure about these observations but that's what most of my friends (who were pregnant more than once) say. I guess she can ask some advice from her doctor if she can do some exercises for pregnant women in order to help her blood circulation since the blood has a lot do to with our overall health. I hear that there are some yoga exercises fit for a pregnant woman. I think eating fresh fruits would also help. =) I'm not 100% sure about these though. She can check it with her doctor just to be sure :)

• China
9 Dec 09
Hi veroniam. You are right. If a woman is having a gilr baby, her skin will be at best glow.When I was pregnant,my skin was really good. I think the best way to care our skin and our baby is to eat fruit and vegetable . I ate a lot of apple,orange and banana to get enough vitamin. I had no striae gravidarum. Happy mylotting!

• India
7 Dec 09
hi priya, i want to say one thing, please tell her don't think about that. its normal to every one, just leave like anything, don't concentrate on that, tell her to think positive..keep smiling and see such babies photos..after delivery she will be normal. thankyou, have a good day.