is the marriage institution not important anymore?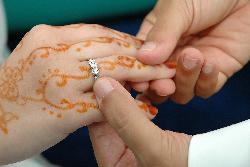 Malaysia
November 14, 2006 11:11pm CST
i find in my own culture where divorce and affairs used to be very rare, its is becoming more rampant. i wonder why?
6 responses

• Canada
15 Nov 06
I am single right now but do want to get married. Most of my friends got married in the last two years and they are all going to be parents soon. My parents have been married for the 34 years and they are still in love today. I have seen them go through hard times, but each of them sacrificed something to keep the marriage working. Most of the baby boomers have been married for more the 30 years. Divorce was not an option those days. In todays world people are not ready to give up anything. They want more and more. They are never satisfied. Love is just a word these days! It has no meaning at all. There are so many factors that lead to divorce, such as selfishness, money, job replacement,medical conditions and so on. There is a site called WWW.ASHLEYMADISON.COM which is strictly for married people to have an affair. How disgusting is that?! The guy who came up with this idea is making money by destroying the lives of others. What i don't understand is when someone says i stopped loving his/her spouse after 15years of marriage. God bless you both and have a wonderful life for 100 more years.

• Sri Lanka
15 Nov 06
People say marrige is an necessary evil. But I think if you don't get the best out of what you do then might as well not do it. So many people are together simply because they are married and not because they want each other.

• India
15 Nov 06
the younger generation i.e. the generation of my parents and the ones who have gotten married after that have realised how easy it is to get a divorce. Earlier people who wanted to divorce were concerned about the impact it would have on their family both immediate and extended. But with the culture of the west creeping into our lives it has become a fashion for young people to get married and divorced many times. I will be getting married soon but will do my best to make sure my marriage lasts.

• Malaysia
15 Nov 06
thanks for your comments. I myself have been married for only 9 months. It has been quite a test for both of us to adapt to each other. There were times when I felt it was easier just to give up. I now realise how much give and take has to occur in a marriage. Personally, I think its the women who has to adapt and make changes to their own individuality to make the marriage works.

• United States
15 Nov 06
The world is full of instant gratification - instant soup, instant cake mixes, cell phones, microwaves, etc. We want EVERYTHING RIGHT N-O-W, or we don't want it at all. Also, we no longer want to work for what we want. All of these factors and more, spill into our personal lives. If we disagree with our husbands or wives, if they constantly don't see or do things OUR way, we say "Forget it!! I don't have to put up with this!! I'll find someone who will see things MY way!!" A selfish and unreasonable answer and attitude, but that's the way it is. Our ancestors didn't mind hard work and long committments. They were proud to be on the job and married for 50 plus years. Now, our jobs are no longer safe and our marriages are a farce. There is very little committment or patience left in our society. Until we go back to being responsible for our actions, taking our marriages and jobs seriously and raising our children with morals and values, things can only get worse before they get better. We all need to take inventory of our lives and try to find a way to put them back in order according to the way they were meant to be. We must learn how to live with our 'instant' inventions without letting them control our actions.

• United States
15 Nov 06
It's the "ME" generation that is starting families. If you take that attitude into a marriage you are doomed to failure. This generation was raised to make sure they feel good, sometimes without regard to how others feel. That spells disaster.

• Australia
15 Nov 06
Its funny, I recently read an article, and this is after all the divorce rates rising to record highs etc etc, that people in my generation are not only getting married later but they are staying married. I think the freedom we are now feeling is starting to fade away, people are getting married and making that step because they *want* to, not because they *have* to. I thin the high divorce rates were coming from the generation before us who got marrie dbecause they were expected to and are finding now, as they get in their 40s/50s/60s that why should they be unhappy? Life is too short to spend it with someone you resent.