What about this?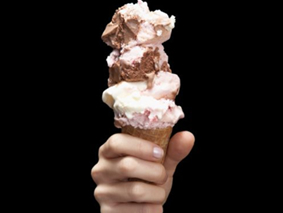 Brazil
December 12, 2009 11:47pm CST
Would you eat an ice cream flavor meat?
4 responses


• United States
13 Dec 09
Oh gosh, that's not for me. I can eat cold ham, but still. Steak or bacon flavored ice cream? I don't think I could stomach that. I believe ice cream should at least be some sort of sweet, if I want to taste bacon or ham I'll make the actual meat, haha! I'm sure some people would like it though. I do think if I saw Bacon Flavored Ice Cream in the grocery store I would probably laugh out loud. It's not a bad idea, for those people who would like it. But it wouldn't be for me. =]

• Philippines
13 Dec 09
haha!

hmmm.. I wonder what's the taste of "bacon ice cream" lolz..haha!

I don't think it'll taste that good because meat are always eaten best when hot. And ice cream are cold, imagine cold meat?! nahhh! I'll not eat it! haha!

• Philippines
13 Dec 09
Hi Kearyaingeal,Here in our place,i didnt hear about an ice cream which is meat flavor.I dont know if i will take the taste.Any way,if it is available here in our place maybe i will try.Thanks,God Bless!