Routines, routines, routines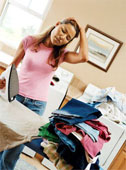 India
December 18, 2009 10:28pm CST



It is said that one should love what they are doing for maintaining good health. Do you love your routines? Atleast 80% of what we do in our life are routines. How have you managed to get to like your routines which you did not like earlier?
2 responses

• Australia
19 Dec 09
Well,as a mom I love routines Anything out of routines turns me off as well as the kids, So overall,I have been very particular with routines and I think I enjoy them,I think there won't be any life if there are no routines. Everything will be unorganised and we all will be cranky 24x7. I think there is no choice for routines you just have to get used to it.

• United States
19 Dec 09
I'm always in a routine and once it gets broken I always feel like I'm in some sort of a rut...