kiamoy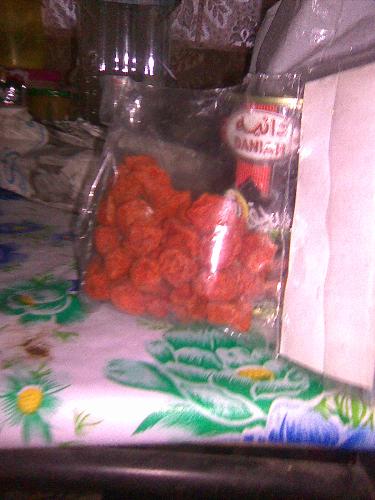 Philippines
December 20, 2009 2:44am CST
Has any one of you tasted kiamoy?It is a kind of candy one can buy in a Chinese store. It is salty but I like its saltiness. I suggest that everyone should try.
5 responses

• Philippines
27 Nov 11
i love kiamoy. I can eat kiamoy all day and just be happy! haha i love kiamoy especially if there is a cold water waiting for me. whooo its the best; i love salty food so i enjoy kiamoy very much, especially since the taste is salty and a bit sour at the same time too. you should also try kiamoy candy with honey. its sweet, salty and sour. :D oh the best!

• Philippines
3 Jan 10
yaiks.... my wife loves kiamoy.... though i am the one who buys her that i hate it. i dont eat sour fruits. the only sour i eat is sinigang. my wife enjoys eating green mango, santol and guyabano. well i guess most of filipinas love to eat sour fruits. the smell i hate it, the taste i never tasted it before but my wife ate some bofore then kidding aside kissed me. har har har silly lady.

• Pakistan
22 Dec 09
I was really unaware of this sort of candy but now that u mentioned I would try looking into a local store and try finding it there. I usually like spicy candies or the ones that have some nice flavour of fruits. I make them double yummy. But thanks for sharing the info

• Philippines
20 Dec 09
hi mimiang. i always make it a point to buy kiamoy every chance i get. i usually buy those at chinatown or ongpin but sometimes those that are available in supermarkets will do. the saltiness and sweetness of kiamoy is what makes it so delicious. i also find satisfaction in eating the tender meat inside the seed of the kiamoy. it is hard gettign it but a few smashes with a heavy object such as a hammer or mallet will do the trick. cheers!!!

• China
20 Dec 09
Hi there. I like kiamoy too. My elder sister is the one ntruduces kiamoy during our childhood since then my tongue looking for it. The taste is kinda weird but i love it. It's been a year the last time i tasted it. Hmmm... thanks for bringing up this topic. Tomorrow I'll surely buy a kiamoy. I like almost all Chinese candies.