Which breeds do you recommend?

India
December 21, 2009 11:05am CST
People choose dog breeds for keeping as pets based on their liking and real purpose. Some want dogs just as pets and do not mond if the dog is small or large. Some keep in mind the safety of family and home and would like a dog who can also protect well. There are some who use pets only for show and everyone knows about celebrities and their chihuahuas. So which breeds of dogs will you recommend for different purposes?
6 responses

• Israel
22 Dec 09
Wow, You really know your dogs.

I have a mixed dog. She is half Canaan Dog and half Saluki. It is a very common mix in my area. Both are local breeds. I live in the Middle East. She is alert and wary of strangers. She also loves to run. She love to herd animals and people if they will let her. It's funny when she tries to herd a human. She will lightly nip at the back of their knees. It's
not
a bite. She barely touches them. She is telling them to move somewhere. Of course people don't like it. It makes them afraid she will bite. I lock her in my bedroom when I have workers who are moving around a lot. It prevents problems. I think my dog is the best dog in the whole world.


• India
22 Dec 09
Wow, a Canaan plus Saluki breed! Saluki's are oldest known breed and I have seen Canaan's - they have a great upright stance which makes them stand proud. It is very proactive of you to keep her away from workers or else no work will be done in your house if she nudges all the workers:-).

• Israel
22 Dec 09
Canaan is probably one of the world oldest "Non breed, breed". They are the way they are without human intervention. They haven't changed in thousands of years. There are cave paintings of them that date back thousands of years and they look exactly the same as they do now.


• Romania
21 Dec 09
Right now i have just a female of Transylvanian Hound. There are very few left in our country, and i started lately to think of starting breeding my female. If everything goes ok, i'll continue. There are hunting dogs, but there are very good for company to....just not for an apartament. they need space, need to run all day, very enegic dogs. i just love them.

• India
22 Dec 09
True, the Transylvanian Hound needs a lot of space since they are extremely energetic and would like to be outdoors. They are also very courageous and consistent in their behavior. In fact, many years ago, kings and princes used to prefer Transylvanian Hounds while going hunting for wolves and bears due to their courage. Poeple living in apartments may not like to have this breed since it would restrict the dog and make it unhappy.

• Romania
22 Dec 09
Execly. verry nice sad. Good points. I'm lucky that i live at the country, so i have planty of space for her. As far as i know, his origins ar in Hungary, from there is also called Hungarian hound. There are to tipes: small, for hunting foxes and rabbits, and large, for wild pigs, bears, etc. I have a big one :D. And i even thought of teach her to hunt. In our country, after the second world war, the docs were considerated as a symbol of ungarian occupation, so they started to exterminate them, by an oficial order. That's why there are very few pure rase left in the country. It's a strong dog, and very resistent to winter conditions. in fact, they are so resistent because their rase formed in mountains at very low temperature. They are very adaptable at weater conditions. These rase was breed for their power, agility and rezistence, qualitys absolutly necesary for hunting dogs.

• Hartford, Connecticut
21 Dec 09
I love Collies or Malamutes..Or mixes with them in it.. I don't recommend dogs with terrier mixed in.. they are so hyper.. and stubborn. there are so many nice dogs out there.. I Love shepherds and I think they are great too.. I would love to get a Great Dane one day though.

• India
22 Dec 09
Collies and Malamutes are great breeds and need open spaces since they are herd dogs. The Alaskan malamute is a very popular breed in Alaska where they are used as sled dogs also. In fact, the border collie is a very intelligent dog and is also extremely energetic.



• India
22 Dec 09
Yes of course, pugs with their wrinked and short muzzled face with a small curled tail make for nice pets. Their stern expression makes them much sought-after and they are good fun to have around. It is said that they are very stubborn about certain things in their behavior.

• United States
23 Dec 09
hi, yes my pug can be very stubborn at times when it rains, oh is that the battle to the finish. she wont want to go out the door, so i pick her up and take her out side and put her on the ground, she wont budge, so i pick her up again walk a few steps more and put her down, no pee no boo so we either go back in the house or if she really has to go she'll do her buisness and run back to the house, i guess you can tell she hates the rain.

• United States
21 Dec 09
It depends on the purpose. Labs and golden retrievers are good family dogs. When we were getting ready to get a puppy I went to a website that helps you pick out the type of dog that is right for you. It asks you questions like the kind of place you live and if you have kids or not. It asks if you want a laid back lap dog or one that has more energy. Then after you answer all the questions it tells you what breeds seem right for you.

• Philippines
21 Dec 09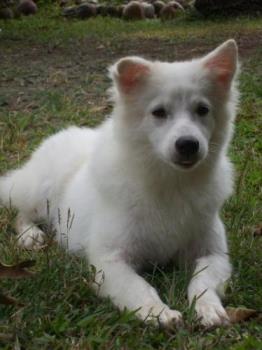 Hi there, I have three Japanese Spitz breed dogs. I love them very much. I think they are the sweetest breed of dogs. They are so huggable, so sweet, and very lovely to look at. I like their white and silky hair, their tantalizing eyes, and everything about them.




• India
22 Dec 09
From the way you have described them Japanese Spitzes seem to be very nice to have. They are also believed to remain problem free with good health throughout their lives. They seem to be good watch dogs too due to their tendency to bark very often at the slightest unusual movement around them.