What did you get your kids for christmas?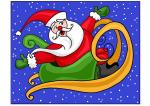 United States
December 22, 2009 10:21am CST
Were you able to get your kids everything on their list this year? I know alot of people who were having it hard this year and couldnt get their kids alot of things. I think i got my kids mostly everything they wanted which wasnt much. I have one who is older now and all she wants is money. My smallest, she just wanted some dolls and the rest to be a surprise but I think i did good to have shopped at the last minute!
2 responses

• Australia
22 Dec 09
I don't have and children of my own but I have younger brothers and a sister. Two of them are getting a laptop for christmas. I think they are extremely lucky. They aren't getting much else obviously but since it is Christmas and kids love to open their pressies under the tree mum has made sure they get a few little presents to open also. Even though we're not rich, my mother always makes sure that us kids have great christmases. May I add that dad loathes this time of year for that reason!

•
22 Dec 09
Well my kids are 18 months and 4 months so they havent got loads! My oldest has got a rocking horse, a trike and loads of clothes, a laptop (childs one), some lego and loads of little Dora the Explorer bits. My youngest got clothes a tedy that knows her name and talks and sings to her. I didnt get my youngest alot because I have no idea what to get for her!