Clixsense question...Mail Check delivery, how long does it usually take?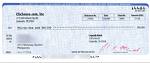 Philippines
December 22, 2009 2:13pm CST
Hi fellow mylotters! I have a check from clixsense. It was said on my clixsense home page that the check was completed last Dec 4. However, it is already December 23 and I still don't have the said check yet. May I ask how long does it usually take before you get the check from them? I know they are sending it by mail and it will be delivered straight to my home... Base on your experience how many days or weeks you have waited before the check gets to you? Kindly share. Thanks!
1 response

• Philippines
8 Jan 10
hi I'm in the same situation, I had reach payout prior to Dec 10 and I sent support ticket, they said you have to give them 4-6 weeks before it arrives (for international users) after that period and you still haven't received the check, you need to contact them and they will conduct an investigation if it was improperly disbursed by someone else or if you have indicated a wrong address(where you'll pay for the return fee). But if anything doesn't go wrong, just be patient and it will come. I'll let you know when I receive mine and let me know as well when you receive yours so we'll both know if they are still paying or a scam now. thanks.

• Philippines
8 Jan 10
Nice to hear that you have received your check already! So we are in the same country, huh... I already sent them support ticket regarding their check disburstment. They replied asap and said that the christmas season and new year might have delayed the arriving of mail. I am still waiting till now. I will message you again when I receive mine already. I hope within this week...


• Philippines
9 Jan 10
International snail mails normally arrives 3-4 weeks, my check was dated Dec 4 and only mailed on Dec 8. It arrives in the PhilPost last January 6 and I only received it yesterday Jan 8. If you have addressed it within metro manila it should arrive sooner or later, hopefully this coming weekdays... but if you have addressed it somewhere in the provinces eg. Rizal etc. It could take another week before your Municipal Post Office receives it and another delay if the post office employees are lazy. I hope you receive it very soon. Congrats on reaching payout. Now I could start referring again, lol. too bad they have $3 check processing fee.