Have you ever made a lamp shade? I did my first one!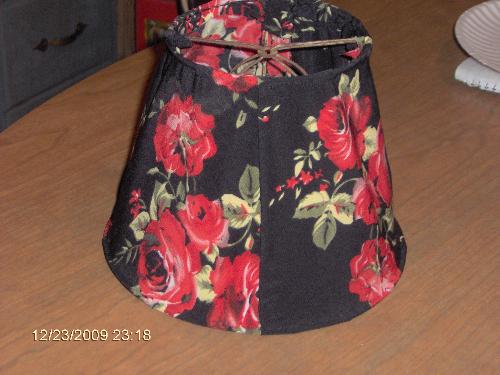 United States
December 30, 2009 4:39pm CST
I had this lamp that had a real nasty looking lamp shade on it and kept telling myself for a year I was going to make it a new one. Well last night I had to use the lamp and it just didn't look good. So I thought about it till this morning and got up and that was the first thing I did. It had a paper lamp shade and it was tore up.So I tore the shade off and had to do something then. I went into my craft room and picked out some black fabric with red roses on it and got to work. I didn't know what I was going to do but it turned out great. The picture is on here of my new lamp shade. I didn't know what I was doing. Have you ever made something without a clue as to how to fix it? Have you ever made a lamp shade?
8 responses

•
30 Dec 09
hey, that has come out really well, especially considering you did not know how to make one. i have not made things as such since i was a child, although i think crafts could be fun, but i have figured out how to mend a lot of things i was clueless about mainly by looking and experimenting. i recently moved and there were a lot of things wrong with my previous flat - they weren't my fault but i was determined to get the deposit back so i spent one afternoon armed with very basic tools sorting them out. it was actually pretty satisfying and i think successfully making something would be more so.

• United States
2 Jan 10
Hi JB I am sorry it took me so long to answer but that is another discussion. It was good to take the time to fix up the mistakes even though they wern't yours. Landlords are pretty picky some times. I bet it made you feel good about yourself fixing things the first time. I am a tomboy and I love doing all kinds of guy things you know like building wood stuff,picking up heavy rocks to fix in our yard, etc. Any way I don't do many girly things cause never got taught the girly things. I guess it was cause I had more brothers then sisters. The girls was older then me but my baby sister was just plain spoiled from birth. And I couldn't stand her spoiled ways. She is still this way and I still can't stand her. So I hung out with my dad and brothers more then the girls in my family. I guess that is why it just plain surprised me that I got this lamp shade done by myself. The top was smaller then the bottom it is a flaired lamp shade. So I figured it was going to be a pretty tough job to make the shade tight at the top and bottom. But it wasn't that hard after all. I showed it to my husband when I only had the fabric pinned on and he thought it was going to be loose too. So I was pleasntly surprised when it came out looking like it was supposed to look. About half way through I just stopped it didn't seem like it was going the way I wanted it to go but it came out good enough to impress my husband. I did a few other girly crafts that day too. I have some wicker hearts so I put some silk flowers on them. My husband was impressed. He has never seen me do any girly things that is why he was impressed. I can't wait to get some poster boards so I can make a patteren of a western shirt that I want to make him. I do love to sew when I am in the mood.

•
7 Jan 10
there are girly as well as blokey things i would like to be able to do too. in particular i would like to be able to make my own clothes, sometimes there is something i would like that i can't find anywhere - all the older women in my family can do this but my sewing skills are limited to sewing on buttons and minor repairs.

• United States
28 Jan 10
Hi Jb I am so sorry for not responding sooner but I didn't get the notice that you had responded again. I can make anything I want to wear that is a good thing that I like to do but I have to be in the mood to do it. I will be making my husband some custom western shirts soon as I can get my sewing maching up and running. I want my husband to have something I made. It will come out great.


• Philippines
31 Dec 09
Nope, but I think I'm planning to make one.

• United States
31 Dec 09
Hi, free_man. You have very talented skills that are so very remarkable!

Your craft turned out to be very creative. I wished that I could make lamp shades like that. It is very pretty. It looks like you bought it out the store. If I have ever made anything it is when I cooked something that I had no idea would turn out great. Great job!


• United States
2 Jan 10
Hi Cream sorry it took me so long to answer. Thanks I didn't know how it was going to turn out but I am very please with how it turned out. Now I can cook but I am not good at following reciepes, I either add too much or not enough. Now my husband can cook like a cheif. I didn't know what I was doing I sew and can follow a pattern and even make patterns, so I figured I could use the old plastic lamp shade that was on it but that thing was so flimsly that it fell apart. So I made a pattern out of a piece of scrap material. Turned out like I wanted it to. Thanks!

• United States
31 Dec 09
I have never made a lampshade before but what you did turned out really well. My grandma made them for her bedroom because she had taken an old bedspread set and made curtains out of the fabric and then valences for them as well so with the extra fabric she made matching lamp shades and at first glance you would never know that she made them herself. I know I need to get into more arts and crafts and how to make things myself but I've just been so busy with school lately that I just don't have the chance to.

• United States
2 Jan 10
Hi Anotherxidentity I am sorry it too me so long to answer. I know the older women knew how to do great stuff and I love to learn new things. Your Grandma was probably brought up doing all kinds of girly things. I bet the stuff she made came out looking like it was brought in a store. I wish I had sisters that did these kinds of stuff. Now when we have satelite I will watch all the craft shows and be right in there making the stuff too. But as of now we don't have satelite TV.

• United States
4 Jan 10
Well for not knowing what you were doing, it came out really well, I like it! Very beautiful and with dark colors which you don't normally see! You reminded me actually that I wanted to look for a lampshade for hubby for his b-day!

• United States
4 Jan 10
Hi Cowgirl. Thank you. I didn't know what color to make the lamp shade but my husband and I both loved that fabric so that is what happened. I have a lot of fabric but not sure what I want to do with some of it so I was trying to stick to as little as possible fabric. I have enough of that one to make me a summer blouse and that is all it would be good to me for. It is a silky fabric, not pure silk. I don't really wear summer dresses sence I do a lot of bull work like picking up rocks, shoveling gravel it wouldn't make sense to wear a nice dress. No I am a blue jean and Tee shirt sort of lady. But once in a while we are just plain in the public so I could wear a nice sily blouse. I am going to make my husband a couple of western style shirts out of some of the fabric I have. I can hardly wait to get started.


• Philippines
31 Dec 09
when i was young, we play around with our home made lamps especially upon hearing that there will be a power interruption at night. using old can(as the lamp shade), i will throw the cover and nailed plenty of holes at the bottom. on the side i'll put wire to serve as handle. then i'll put candle inside and light it up when its getting dark. its really bright and we would have fun walking while carrying those lamps

happy new year free_man

• United States
31 Dec 09
No, I have never made a lamp shade. When my daughter was younger, I LOVED crafts. My ex-husband's mother worked at a crafts store so I was more encouraged to do it then!But now, I just don't have the time, it's sad, really. My daughter keeps saying that it's a good way to make money if you can make crafts these days because people love homemade things. I think whoever said you should make lampshades for a living is right. I like the fabric. :]

• United States
2 Jan 10
Hi Jahernandezrivas sorry it too me so long to answer. It is too bad you don't have the time to make crafts I forgot how much fun it is to make things by hand. I make all kinds of wood crafts, bird houses and doll houses, toys, shelves etc. But the garage here don't have electricity in it so we can't use the tools. And it is too cold this time of the year to put them outside to use but when we get electricity in the garage you will see more of our crafts. I think they will sell on ebay so I will be putting them on there. I used to sell them out of my home in another state years ago but we live on a county road way back in the boonies now. We see one or two cars a day go down this road. You should take time to do the crafts you will see how it will take a lot of stress out of your life. I hope you get back in to crafts soon. Thanks.