What's the most common problems in communication

Philippines
December 31, 2009 8:04am CST
We all know that good communication is very important in every relationship. It's one of the major causes that relationship fail. Some common problem are the inability of someone to talk slowly so others could able to get the message and understand. Other is Criticism, if someone has a habit of criticizing whatever you said then communication won't continue. And when you talk too much and won't give time and allow others to speak. Or when you often tell lies, even white lies, half truth or whatever that hide the truth. For you what's the most common problems in communication that you often encounter?
7 responses

• Philippines
31 Dec 09
Personally, I tend to listen than to talk too much!!! Look guys, everybody loves to talk, and nowadays we need someone to listen. Sometime our communication is bad, because there are moments that we were not able to communicate with each other. Not able to call nor text. But most of the time ,I can say that we have the best relationship ever because behind our disputes and imperfections we are able to handle it.

• Mexico
31 Dec 09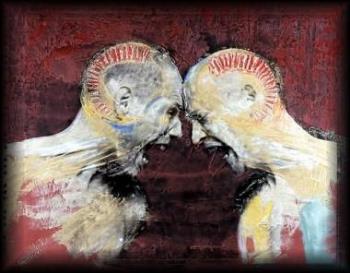 Hi honey: I think that the way you focus the problem is excellent. I think that our society is too selfish. We just want to talk about ourselves and our needs and not about the things the other persons needs what makes it difficult to find what the other person wants and need. It's not good that we always talk and talk it's good to hear the other's opinion specially in a love relationship or we will end just as the picture I have attatched. Thanks for your answer honey. Hope you are having a nice day. Merry Christmas/ happy Holidays and Happy New Year. Take Care. -Alvaro.

• Philippines
1 Jan 10
Yeah, everybody loves to talk, everybody wants tell about their self, life and achievements. It's rare to find someone who would simply love to sit down and listen to a person who talks about her/his life over and over again. I'm glad to know that you're a good listener:-) That's good for you and best for all people that surrounds you. Yeah,we often take for granted to call, write or send text messages to those people who are close to us, but we get upset when we didn't hear from them. We didn't take the first step towards better and stronger communication with others. Anyway thank you for sharing with us and Happy New Year.

• Mexico
31 Dec 09
Hi care guarden: For me the most important problem that makes that people can not have a good relationship with the person they chose, to fight with their friends, neighbours, etc is INTOLERANCE. I think that, if people admit that you can not change everything in a person you just let it be and it's easier to have a life in common. I am not saying that you don't have to discuss things that affects you, but if it's possible not to argue with a person for something that it's not necessary, if you tolerate some actions and don't critize every action of a person you'll have a better communication with him/her. Thanks for asking us this question careguarden. Hope you are having a nice day. Merry Christmas/ happy Holidays and Happy New Year. Take Care. -Alvaro.

• Philippines
1 Jan 10
Hello Alvaro, I agree with what you said, I think it's lack of respect and acceptance that other people can't help to criticize others. Yeah, there are so many people who would like to change others and become someone like them. They want to see other people as their mirror. Sometimes we often recognized only the mistakes and weaknesses of others and not the good things they have done. That's why communication won't grow. Those were the things that put communication to an end. If everyone able to respect and show recognition and give affirmation to others then communication will bring us together. Anyway thank you for sharing with us and Happy New Year!

• Philippines
31 Dec 09
there's a lot of reason why communication becomes a problem. 1.when one talks and the other never listen. 2. when both talk at the same time. 3. when no one care to talk about the problem. in my case, when my wife argues, i let her talk and when she's done, i explain my side afterwards and i always do it while embracing her. (to keep her hands from flying

. good thing about mobile phones whenever we are arguing on an issue, i cant hear her shouting

. happy new year careguarden!

• Philippines
1 Jan 10
LOL, you did have good tactics. Congratulations! Yeah, I absolutely agree with you. Most cases no one dares to listen, they just to speak so it end to nowhere and greater misunderstanding. It's give and take. Sometimes there's no one want's to talk either, so how could an issue be settled if no one wants to face it? Anyway thank you fro sharing with us and Happy New YEar!

• India
31 Dec 09
HI CARE, I think the most common problem in communication is language sometimes some people make friends but both friends tell other languages but no issues.it doesn't matter but sometimes its difficult for us.well happy new year in advance.

• Philippines
1 Jan 10
Yeah, you're right! Language could be a barrier towards better communications. Like it's hard to share a joke to someone who's doesn't know well with your language, nor use their language to express what you fell,as you don't know the deep and roots meaning of words. Anyway thank you for sharing with us and Happy NEw Year!

• Canada
31 Dec 09
Well, with my spouse, mostly it is arguing about misunderstandings. He has a bad habit of ASSUMing things not said or heard wrong (his hearing isn't the best, but he hates to admit it), then arguing that I said this or that when I did not. A simple question asking me to explain something if I didn't give him enough information, would clarify before the argument ensues, and eliminate harsh feelings or words.

• Philippines
1 Jan 10
Oh, that's too bad. Making own assumptions could lead to huge misunderstanding and arguments.In your case it needs a lot of patience on your part and understanding as well for your partner. And you'll also need to have courage to accept him as he was and as he's always be. It's difficult in your part, but that's part of the relationship. I'm sure you can make it. Anyway thank you for sharing with us and Happy NEw Year!

• United States
31 Dec 09
Personally, I tend to talk too much. I don't mean not letting others talk, I just tend to say absolutely everything that I think. This results in a lot of hurt feelings on the part of others. I cannot seem to find that line between complete honesty and tact. Another problem with this is that until I have known someone for awhile, I expect them to tell me what they are feeling. I don't try to second guess what they are feeling - if they need to talk I expect them to tell me, if they need help with something I expect them to tell me, etc. This communication flaw on my part hinders communication with others, because if they do not communicate with me in the way I feel they should, I tend to feel that they are hiding something. I start to think, Did I hurt their feelings? Are they mad at me? Communication is hard work!

• Philippines
1 Jan 10
Yeah, that's one of the biggest problem in communication that most of us often hard to overcome. We often lose control of our thoughts and emotions thus we say things we would rather left it buried. We don't know the art of being truthful and tactful at the same time, so sometimes we tend to tell white lies because we don't want to hurt the person, or we are just afraid to tell the truth. And other thing, we expect other people to do the same thing as we did, like when we are open to other people we also want them to tell us what they feel. That's one of the obstacles that hinder the growth of communication. Anyway thank you for sharing with us and Happy New Year!

• Philippines
31 Dec 09
I think the most common problem in a communication is totally the conversation when both person able to talk without listening to each other side or no talk at all or even one was not able to response in a discussion can possibly lead to communication problems for these are some of my experiences in most communication problem. You see, in every communication that involves social interaction by means of conversation. Conversation can be form of verbal or actions. One person has to talk and one must listen .For both of them to understand each other well at the same time not misinterpreting any discussions concerned. Some of the most common problems arises in any relationship are difficulty in language, when both cannot understand the language of the other person. Unless they are able to understand both english as basic language then there is a possible good communication. second, is there is a fluency problem, this is where the person cannot really emphasize the words being delivered or use words in a proper way. Still, he can be misinterpreted or offend the person without his knowledge. third, is when there is an anatomical problem to one person. Example is if he is deaf. You must be able to know some of their own body language means of conversations like hand signs. fourth, is when there is a blame issue games that tend to blame other person without proper basis just to counteract the said discussion. This gives the presumption more of being a dominant person rather than being a good listener. Any of this problems can be fixed if have given the proper response or able to meet the said conversation like give and take relationship.