How many times a year do you deflea your cat?

Netherlands
January 2, 2010 2:04am CST
Hi everyone, For the fellow mylotters who have a cat, here's something I would like to know. How many times a year do you deflea your cat? I got a recommendation to do so every month, but my cats don't go outside so I wonder if it's really neccessairy to do so. I would love to hear your experiences because I would like to get as little of this venom on them as possible, but still keep them flea-free. Thanks!
2 responses

• United States
4 Jan 10
I do NOT deflea my kitties. Luckily never have had to for the last 10+ years. My cats do not go out much, and if they do, for only very short periods of time, so we make sure they don't stay out long enough to wander away too much. But it's been a blessing, and we'v ebeen lucky too. In the past, when we had our first dog and first cat when I was a child, we had fleas almost every year, but that must hav ebeen because we let them out longer periods of time, and let them run around in the bushes and brush.

• Netherlands
4 Jan 10
I guess you are making a good point there about the bushes and brush. There is a bigger chance they get ticks too if they run amongt bushes and trees. We live in an appartment so letting them outside is not really an option, and there is too much traffic nearby anyway. You are indeed lucky never to have fleas. I don't allways get them, but from time to time my cats do get them and I try to get rid of them as soon as possible. Thanks for responding.

• United States
5 Jan 10
Yup, no ticks, no fleas, just hair all over my clothes from cuddling with them. One of the sweeties, she loves draping her body over my shoulders. I was just in the laundry room folding, but since she's pretty big now, I had to use one hand to hold her legs that were dangling. I still must learn how to fold laundry with one hand! ;o)

• Netherlands
9 Jan 10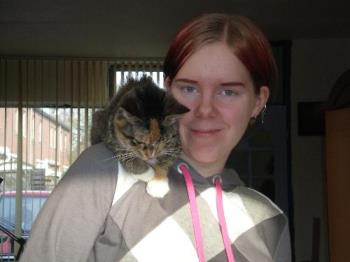 LOL! We have one cat that does that aswell, she loves to sit on your shoulder. Luckily she is not that big so she can balance herself on my shoulder without me having to hold her. I can imagine it being hard to fold the laundry with a big cat draped around your shoulders though!


• United States
4 Jan 10
I don't let my cat outside at all. he is a house cat without flea issues. I would do it if he were to go outside.

• Netherlands
4 Jan 10
Thank you for your comment. My kitties don't go outside either, but because I have people bringing in their dogs when they visit there can be flea issues from time to time. Therefore I am looking for a way to deflea them that is not harmfull to my cast, or at least as little as possible.