Talk about pyramid selling.....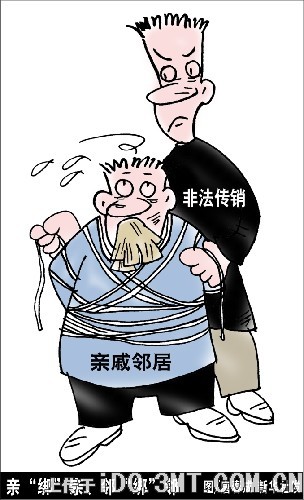 China
January 8, 2010 9:15am CST
I'm nit sure whether it's illegal in ur countries,I hate this way of sales. I assume one colleague of mine is trapped in it from her behavior and pet phrases,those are weird and unbelievable. She is always rekoning something,naggingthe prices and characters of the comestic commodities she sells,all of that make her absent-minded now and then during work. She is also friendly to everyone,every strange exactly and introduces those products after couple of day,begin to persuade them to buy some of them at last.U will see a drastic turn from her original friendly face into a one full with anger if u say"I donn't need them,thanks"I have seen the pamphlets of her company once,they are seemed all preach good human natures,as"smile to everyone","donn't feel shame to admire mistakes u made"."to have team-work spirit".They are no more than junks as long as involved with selling products made by that company,the human natures are changed radical,used to make money for it . I cann't help her whose mind is cluttered with those junks and she will stop talking with u as long as u show u are against om her side work.... This is it.SHe is young and maybe should pay something while she is walking the steps to mature.
2 responses

• China
10 Jan 10
my dad was scammed by pyramid selling years ago. he put all his money and energy in it. he even borrowed money to do the investment. at that time pyramid selling wasn't illegal in China, my poor dad believed he could make money from it. he made every effort to persuade his friends to join him and buy the products. no doubt my dad failed in the end, not only having lost all the money, he was in debt. this strike sent my dad to hospital. i was a child that time, this left bad influence on my heart. perhaps you can help that girl, tell her she'll lose everything if she still do that sale. to lose some money is ok, but it will be a huge strike to her soul, it may ruin her life. i can't forget my dad's sad face in hospital. coz it's illegal, maybe you can call the police to close that pyramid selling company.

• Philippines
8 Jan 10
yeah, that is the bad side about pyramid selling. Many here in our country had entered in that kind of business type. Unfortunately, most of them have been scammed because of pyramid selling. I think it was banned here in our country. Business should help others earn and build him up not build a person down especially when he had invested so much. Thanks for sharing that to us. It will give awareness to them.