Don't mess with a bull otherwise......!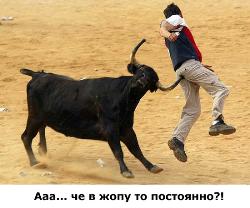 India
November 15, 2006 7:31am CST
see what happens when somebody make bull angry. the man is in very bad condition. what u have to say on this
3 responses

• United States
19 Nov 06
I think he got what he deserved. Same thing I think when I see people being gored by bulls during the running of the bulls. Same thing I think when I see someone in a rodeo get stomped on by a horse. You're taunting a large, pissed off animal. It's not like you were minding your own business and the bull came running into your living room. I do not have any sympathy for people who do not respect animals.

• India
19 Nov 06
oh my god the guy is in pain. i m feeling sorry for him.that will hurt . i dont want to be in guys position

• United States
15 Nov 06
Ouch...you know that's gotta hurt. Would want to be in that guys position.