What it means to be alive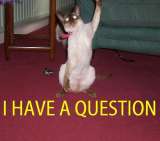 United States
January 18, 2010 12:35pm CST
Have you ever thought about what it means to be alive? I was doing my usual day off morning stuff on the computer. Had been at it for a couple hours and just leaned back a bit to..oh..relax my jumbled mind from the ads stuff and the emails when out from the oblivion bubbled the above notion.. ..To be alive.. Well, with my mind, such as it is, the first notion was the physical stuff, the basic machinery of alive..heart beating, breathing..the basic stuff..And then I noticed the traffic noise outside, the low hum of the frig, the clickety-clack of the 'puter and saw Sammie perched to my side, the smoke cloud hanging around me and the computer, and the little flicker bar that was guiding my letters across the screen, felt the twinge of the bad callous on my foot and sat back again.. ..The waltz of the leafy shadows across the double doors, the rumble in the stomache, the draft creeping by.. And came to the philosophical conclusion that Alive wasn't a state of being so much as a state of experiencing.. What say you? Enjoy!
2 responses

• United States
18 Jan 10
Being alive is getting the most out of each and every moment possible. Not only doing everything you can but enjoying it as well. Living life to your fullest and getting the most out of every experience. Whether those experiences are old or new, they are something that will allow a person to live life out its fullest. To me, that is what it truly means to be alive.

• Pamplona, Spain
19 Jan 10
Hiya greenfeathers, Being able to sit under a warm cosy quilt and listen to the frosty wind moaning around the corners of the houses and the rain spattering and blasting against the window panes on these very cold very windy nights we have had thank God for being able to experience them in such comfort. I´m cuddled up on a Settee that´s seen better days and so has the quilt but at least I am warm and fed and not going hungry in spite of everything. There really are so many things and memories but this is the most recent one. Another one watching the Sparrows hop around and come right up to our Door I feel honoured they come here. We´re not supposed to feed them but sometimes I accidentally let the bread drop out of the Door ledge onto the floor tiles outside.