Do you enjoy EAVESDROPPING?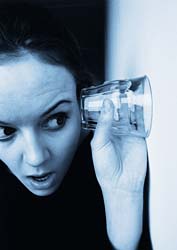 Philippines
January 27, 2010 8:48pm CST
I know we have no right in minding other people's business. But, eavesdropping is somewhat fun for me. When I am alone dining in a restaurant, I seem to eavesdrop in my neighboring table when the volume of their voices is highly audible.There are some topics that I find hilarious and some I find argumentative. How about you guys, do you enjoy eavesdropping?
1 response

• Philippines
28 Jan 10
Most of the time I do LOL. While waiting in line or on a bus or in a restaurant one can't really do something about hearing other people's conversation. Most of the time people tend to speak in louder voices especially if the room is quite noisy and if you're in the next table you can hear. And there are times when they gossip about something or someone and it seems familiar to you you always wonder and would really like to hear more. And there are times when you would like to interrupt when topics discussed are nonsense. For example a group of students are doing group study and debating about their lessons for all the wrong reasons LOL