there are many nice place to visit malaysia.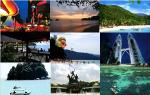 Iran
February 15, 2010 11:12am CST
hai there.here i want to tell you about malaysia. in malaysia there have many culture,many races,many type of language,many type of food ,and other ells. what most important is the all the people in malaysia is kind and helpful. in malaysia there are many beautiful places to visit like Langkawi island,redang island,pangkor island,and many more. if you want to know more about malaysia,you can come and see by yourself.its will be your great tour in your life.trust me .
4 responses

• Malaysia
27 Mar 10
Hi pgr, You are right. There are a lot of places can be visited in Malaysia. And depend on your vocation themes, this are a few places you might consider: 1. Beach, diving, scubaing - Sipadan Island (Sabah)- Among the best if not the best scuba diving place in the world - Perhentian Island (Terengganu) - Tunku Abdul Rahman Park (Sabah) 2. Climbing -Mt Kinabalu (Sabah) -Mt Tahan (Pahang) -Mt Ledang (Melaka - Johor) 3. Shopping -All major city 4. Historical area - Malacca - Penang - Kuala Lumpur

• Philippines
19 Mar 10
Hi pgr1806! I've been to Kuala Lumpur, Malaysia several years ago but we stayed there for just a couple of hours since we have to go back to Singapore where we are staying that time. We are planning to visit Kota Kinabalu on June. I really want to go to Perhetian Island too but I think it will be a long way and we have to travel by plane again from KK.