Do you like horse race ?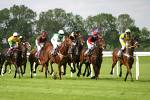 India
February 17, 2010 9:01am CST
Many of us want fast and furious race full of excitement and drama. If you like this, you must be a fan of horse race. I like the horse race very much. I regularly watch it on television. However I haven't watched it live. I am a fan of it. Do you also like horse race?
3 responses

• Carlisle, England
17 Feb 10

We have a racecourse here in Carlisle, England and (not surprisingly) it's called Carlisle Racecourse lol. Money is tight at the moment so we haven't been for a while but when we do go it's much more exciting to watch live horseracing than watching it on television, in my opinion. Carlisle hosts both jump and flat racing meetings depending on what time of year it is. There is a massive flat race meeting coming up in the summer called the Cumberland Cup...or something like that. When it's the jumps season horses come to practice here that may end up in the Grand National. It doesn't always happen but I suppose the most famous horse to race here was none other than Red Rum. There is a statue of him in the grounds.


• India
17 Feb 10
I have seen horse race sometimes but have not been able to participate. I have a strong desire to participate in horse race and feel the fun it will have. I love horse riding and looking for a chance for experiencing it.

• India
17 Feb 10
Can't say about me sanjeev because I haven't ever seen horse race live or on television so don't know the excitement and thrill of this, but I like horses very much and have a wish that one day I have my own horse as a pet.