Fake Cosmetics Prolifirating the Online Market: Pretty Scary !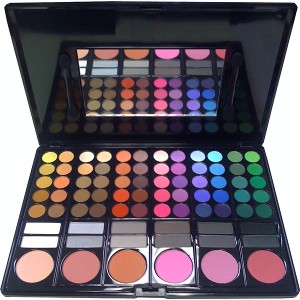 Philippines
February 18, 2010 12:59am CST
Hi mylotters, after several emails back and forth I was able to persuade the seller who was about to give me a fake mac to give me a refund (story on the other discussion I posted I got faked!)yehey! So I started to scout online for products such as NYX and Coastal Scents. I am subscribed to Makeup Geek. com ( i'm not promoting the site) and I have corresponded with Marlena the site admin and who does the makeup tutorials, I was able to get some very good information about spotting a fake Mac and as well she recommended an online store that sells authentic products. I like Marlena because if you have questions she answers right away and is not selfish in giving you the right information. I also went through her archives and found her review on the coastal scents products. Well, I love Mac but it's hard to buy this brand of makeup from where I am and gee the internet is polluted with fake products! That's why I have opted to find other products that is available for me locally.Well her review on the coastal scents 78 palette was good and I decided to search online for this product in my area. So, I typed coastal scents on the search bar and I got the results. I went through the add and it look pretty much the same with what I saw in Marlena's site but this time I asked the seller if this is an authentic coastal scents as the caption on her add read, well she said " who said this is coastal scents?" lol but her caption read coastal scents. Then the seller directed me to her online store and what I saw were fake make up resembling the coastal scents products, like for example the 88 palette. Well this is pretty scary right? Some sellers are not honest and tells you that what they have are authentic and you pay good money for the product. The products are high end replicas and if you are not used to using the original you might get fooled easily. This is very sad, there are too many fake make up products in the internet advertised as authentic ones. Honest people like from my place who are willing to pay the amount to get the authentic products are easily convinced to buy. If only some of the trusted brands like Mac, NyX etc. w0uld open their online stores to other countries not only within the U.S and Canada and U.K, hardworking chicks would be able to access the authentic products and there would be less fake cosmetics out there.
2 responses

• Philippines
31 Mar 10
I believe I know who you're talking about and what store you're talking about. I saw a negative review on her earth palette which said the whole thing was fake and she replied that it wasn't stated in the item description that it was coastal scents but I believe she just changed the information on the listing as I looked it up and apparently changing the descriptions was allowed over there... But not the type nor the duration of the listing. I looked over at the ingredients of the make up she sells and I saw that it was made up of low-grade materials. It's okay for eyeshadow, I suppose and is not so obvious because the make up is applied only on a small patch of skin that doesn't really have any sebaceous glands in them. But the fact is out there... That the product is fake and that her products are a rip off. I have a great belief that she brought the products from Hong Kong and are listing them off as coastal scents. It's very annoying. I went over to view her listings and it all said that the palettes she sells are coastal scents... And then when asked, she goes off to say that there's nothing saying that it's coastal scents and changes the item descriptions. She removed all of her listings in that selling site... But I still see her Multiply site up. I was about to purchase a make up brush set from her but I changed my mind. It's stated that the items are made of pony and sable hair but I don't believe any of her descriptions anymore.

• Philippines
22 Feb 10
That's one of the disadvantage of Online Marketing, you wouldn't know if it's real or not unless you see it yourself and test it.