Does anyone actually play softball here?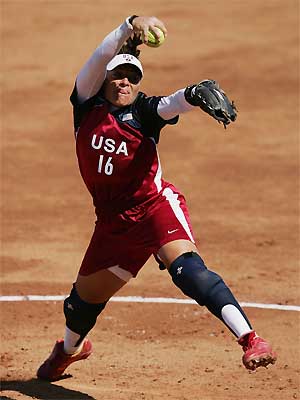 Hong Kong
February 28, 2010 9:28am CST
Hello everyone! I am a teenager from Hong Kong. I do play softball here, although I am a boy. It is quite popular for us to play softball (instead of baseball) in college. I am a outfielder! :) Does anyone of you actually play softball? Which positions do you play? Do you think it is odd for males to play softball?
3 responses

• Argentina
28 Feb 10
Hi Xeron0719. No, I don't think it's odd for males to play softball! I think it's awesome. I'm a female and I spent most of my younger days playing softball. It's an awesome sport! I'm lefthanded and played virtually every position in my years of playing. I was particularly good in left field or shortstop but because I was left-handed, the coaches always wanted to put me on first base! lol. Made sense to me but I wanted more "action" than that! lol. I played the sport from the time I was about 6 until I was in my early 30's. I always dreamed of playing on an Olympic team but at that time, they didn't have a female Olympic softball team. It's great that they do now though! Unfortunately, I live in a place now that doesn't have a softball league. They have men's baseball but I just don't think there's enough interest to develop softball here in Argentina. I think it's amazing that it's more common there in Hong Kong to play softball instead of baseball in college. Is there a particular reason for that? What outfield position do you play? What do you like about the sport versus baseball? Very cool!

• Hong Kong
1 Mar 10
Actually, softball is not that popular in Hong Kong. It is only popular in the colleges. Since we will have competition together. We also have female teams, too. We often practice together, and it is fun! Some of my teammates in my college team is also the Hong Kong team member. Playing with them really help us to improve our skill a lot. I usually play left field, than right field. I seldom play center field since our team has a very good center field and on one can replace him. LOL.

• Argentina
3 Mar 10
If you play left field, than that means you must be pretty good! I think that it's so cool that the boys teams will practice with the girls! Is the Hong Kong team you mention a "professional" league? I just think it's great that the sport of softball has "gone global".

• United States
28 Sep 11
Hello xeron and welcome to the U.S. dont know the area your in, but here where i live we have a mens slow pitch league at the city park&rec and i have been playing every season for 15yrs now... i play short-stop and 3rd but been playing 3rd for most of that just recently started working on my game at short. its not odd at all for a male to play softball, whether slow-pitch or whatever the case...

• United States
10 Jul 10
i am a teenager in the usa who always plays softball. i play pretty much anywhere. im usually the utility chick but i enjoy the sport to play anywhere. i dont find it odd though for males to play softball i feel males can see the difference between baseball and see that it is as amusing as baseball is.