So Im Back..

United States
March 4, 2010 7:00am CST
hopefully for good this time! the ex, mister self proclaimed high and mighty all wise preist shaman that you got acquainted with around the Lot from his lovey dovey professed deovtions to me (all the while screwing around with a sewer rat he met at work) that shall henceforth be known simply as "the maggot".. has spent the last year torturing me, children-including his own for the pleasure of watching me agonize over it, and sinking to new depths of evil by slaughtering his daughters cats and leaving them splayed out on my porch as a message that he can and WILL do whatever he pleases, when he pleases, with no repercussions. thus far, hes been right about that fact. funny thing "proof".. i had none since i didnt actually sit back and watch his atrocities, the courts and legals couldnt do a damned thing about it. ;sigh; but i have faith that in the end, we all answer for our actions in one way or a`tother, so i leave him to the Gods and their righteousness, and step forward.. move on. in the moving on, im able to come back here amongst you people to socialize, jump a soap box once in a while, and mayhaps make a cent or two for a lively discussion to pad my bank account which is depleted beyond all measures lol i look forward to seeing those i`ve lost touch with in the chaos.. didja miss me? cause i missed YOU!! so please, take the opportunity here to update me on whats been happening in yer nick of the woods!
5 responses

• Regina, Saskatchewan
6 Mar 10
Well it's about damnedtime. You've been missed. My hubs has been home all week, and you know that means I don't get much computer time..... We've spent the week in the city every day getting my law suit my ex brought straightened out and ready for filing. Have to gather a few afidavits from other provinces, get my own written and notarized and we're good to go. Also spent a lot of time this week getting our taxes filed, and gathering info needed for my trip to Britain in Sept. Plus running back and forth to the chiropractor's as the hubs put his left hip out. (The man really understands pain now! LOL) So I'm exhausted, but it's been a good week and now even better finding you back on the lot! Hugs and higgles, love and giggles kiddo. Oh, and I rather like the term 'sewer rat' over maggot. lol


• Regina, Saskatchewan
7 Mar 10
Well that confirms it! I really do need new reading glasses! LOL Will try to keep up, but slap me upside the head when I get it wrong or I'll really get confused! LOL

•
10 Mar 10
So your back, and I am still here too. Well lets say I pop on here occasionally when emails arrive in my box. Funny though you are one of the people I have often thought about. It sounds like you have had an absolutely awful time of it and other than that I don't know what else to say other than I hope things get better for you soon. But it is really nice to see you again xx

• United States
10 Mar 10
is really good to see you too rosey =o) and things are starting to settle down a little bit.. but as soon as i think that, something else happens and all breaks lose soo ;turns in a circle and spits on the floor; lets hope they stay this way and continue to improve lol *hugs*

• United States
4 Mar 10
Well and Wow! I was looking at your profile yesterday! I was checking out my friends list. Just went through them quickly to see how many people I needed to check up on and there you were! Have throught about lots and was wondering what was going on since you kind of told your tale and disappeared! U'm sorry for what "he" has put you and the little one through, but glad that there is someone in your life that you can count on! And as you said, God will take care of the rest and make sure he gets his! Am really happy that you've returned! Now please stay awhile! And you definitely were missed! Hugs, Opal

• Canada
4 Mar 10
How can men be such selfish, self-serving cads?

I am so sorry to hear that he has crapped all over you so badly. That is just unforgivable! I sincerely hope he does get his just dues after displaying such atrocious behaviour. All in due time, I assume, in due time. Glad you have had the perserverence to push on with life. Aren't our children just awesome motivators, eh? I wouldn't be surprized if it was them that got you through this, being the faithful momma you have always been. You gotta go on for their best interests. I know you will come out of this a stronger person, for you and the kids. Or, at least I hope we can help with your 'moving on' in some small way by making a few minutes of every day more enjoyable.

• Canada
4 Mar 10
Weight loss. WTH? You are georgeous and sexy. If I was gay or bi I'd be chasing you all over the place. *giggles* I'm so pleased that you have found someone who is decent to you and your kids. That is just awesome! See, I knew you are so magnetic, there was a 'right' person for you that would appreciate your qualities. who would have thought you could have found each other so quickly. Well, I guess a year isn't that fast, but still, that is so awesome!


• United States
4 Mar 10
ohh i was heavy as hell.. but ive lost it all!! not from bein sick, that was only a little really.. so no worries. and im flattered by yer wanton desires for me ;kiss kiss; rofl the man? we met ten years ago when me and the maggot were first together, they knew each other when they were kids. we just happened to run into each other again after the breakup (where? on the maggots facebook page of all places LOL) and started hanging out together to have another adult to talk to. hes also a single parent and has raised his son since he was 18 months old by himself. one thing led to another, and ventually a hug turned into something way way more ;happies;


• Australia
11 Mar 10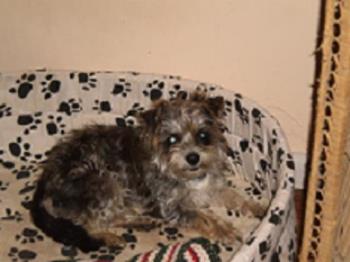 Yes, I missed you. I've been greatly worried about you from time to time and am so glad to see you back. Things are much the same here at downtown nowhere except for maybe a couple more critters. There's another rescued goat we call Barley and a cutie of a she puppy I named Roxy. Here is a picture of her shortly after I took her in.

• United States
11 Mar 10
good to see you too tickie. you wouldnt happen to know anyone in my area thatd rescue a couple of cats wouldja? ive got my sprites critters that need homes now that we lost ours, and i really dont wanna send em to a shelter if i can help it