Over Reacting?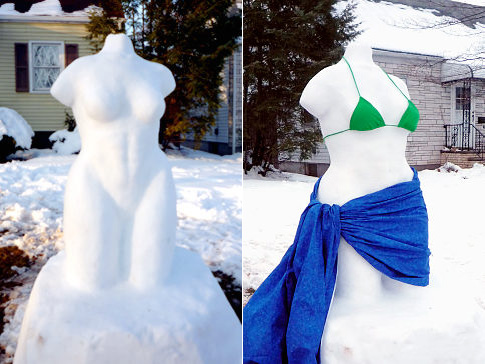 Singapore
March 4, 2010 8:47am CST
Talking about overreaction. A New Jersey family's favorite winter pastime took a twist after being influenced by the armless ancient Greek statue Venus de Milo. The mother and her kids decided to have the figure of the armless ancient Greek statue instead of Frosty and had an unexpected call from the law. The authorities ordered a New Jersey family to cover up their saucy snow lady after receiving a complaint that the frosty front yard figure was X-rated. Talking about some neighbors and over reacting, I think this must certainly stand out for 2010.

Read more: www.nydailynews.com/news/2010/03/04/2010-03-04_its_a_coverup_after_snowlady_gets_frosty_looks.html
1 response

• United States
4 Mar 10
This reminds me of the fact that there is a house in my town that had a mermaid statue in their front garden. It looks fine but in the winter time, I have told my kids that we should buy it a fuzzy red santa bikini top to wear in the snow!LOL

• Singapore
5 Mar 10
rocketj1, A fuzzy red Santa bikini top for the mermaid huh. Boy, you are hilarious. here.

Just don't be surprised it turned real life and come around serving you....