A gorilla on Mars? But where is the banana tree?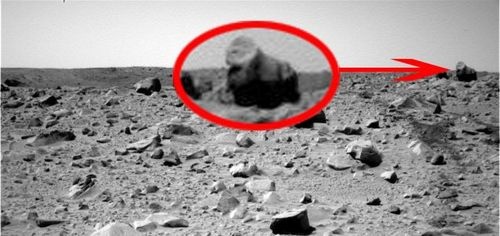 Romania
March 4, 2010 6:38pm CST
Over the years there have been numerous theories according to which there is life on Mars. Scientists at NASA have published several photos that could support these hypotheses. The most recent image from the Red Planet, made by a robot that collected the rock on Mars shows a huge animal. The American expert Nigel Cooper, aged 43 years, said the animal in the picture is a pink gorilla and offered assurances that there really life on Mars .. One of my office colleague had a funny reaction, he said, because there is no vegetation he think that gorilla get banana from supermarket.

What do you think about this? do you really think that there is a gorilla or is just a tricky photo?

My opinion is that is just a rock with a weird shape, and is not first time that these pictures were made, especially on Mars where scientists think life might exist.

4 responses


• Romania
6 Mar 10
If there is a pink gorilla, i am Mother Theresa. Come on, i really don t understand why they think that all we are silly? This kind of information, they keep for many years , hide, scientist want first to know better what is there, what impact have for our planet...and after 50 years we will know if there was or not a pink gorilla. Is just a joke; they must to say for what they spent so many money from country budget.


• Philippines
6 Mar 10
dear ice, am sure it is not a camera trick. but a gorilla? naaaaaa.

guess it is not moving. if not moving then its something else. but thinking again, if it is gorilla, probably it doesnt eat banana. what is in mars? dust? then, that must be it.

ann