Which would you choose - 'Progeria' or 'Moral Degeneracy'??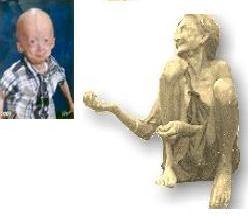 India
November 16, 2006 12:34am CST
Not all topics are pleasant! Life can ask some unpleasant questions! Here's one: 'Progeria' or 'moral degeneracy'?(moral degeneracy, can also mean moral turpitude, depravity). Asked to choose, Which would you rather prefer?Progeria is the medical condition of aging faster than your physical age; if you are actually 10 years old, you appear to be 70! You look like the creatures in Harry Potter books. On the other hand, 'moral turpitude' means the loss of morality and ethics. You wouldn't care to do anything so long as your needs are satisfied. You don't have 'right and wrong', or 'good and bad'. The picture shows a 'Progeria' patient on the left and a degenerate beggar on the right. Make your choice and say why.
1 response

• Japan
23 Nov 06
even progeria make your body older, maybe it can teach you how prescious the life is since you just have shorter time than people in usual. you can be wiser in seeing the world. and moral degeneracy just teaches you to be greedy, negative thinking, money-minded and you became the life's slave. then, progeria will saound the better one