My Niece Swallowed a button!!!!!!!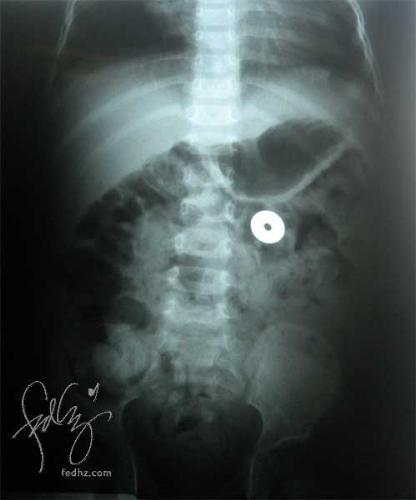 Philippines
March 27, 2010 12:58pm CST
I just received a call from my cousin,who is like a sister to me,telling me that her 1 yr old daughter,my niece swallowed a button!!!!without hesitations,i shouted at her asking her how it happened & why & where on earth did she got that button.My cousin doesn't have any idea because she left her with her nanny while she is cooking dinner.My cousin is panicking and wanted to take her directly to hospital but i told her to calm down and not to worry,i asked to check her breathing,she seems to be okay as she ate her dinner still ,told my cousin to observe her for 24 hrs,monitor her bowel & check if button came out already & if not that's the time she will check with the doctor & i assure m cousin that everything gonna be okay since my neighbor experienced the same thing,her daughter swallowed a battery & it came out when she used the toilet....my cousin finally calmed down & told me she will keep me updated..any more advise???
3 responses

• India
2 Apr 10
Well, thats really sad to hear. When i was young i swallowed many, i stil remember them haha so funny. But thats nothing to alarm, she will get in when she pops out at toilet. Dont worry, its common at all kids!

• Netherlands
30 Mar 10
I lol'd xD If it would happen to my I'd be scared too :P

• United States
27 Mar 10
I would be freaking out and panicking as well. I would have suggested though that she call the doctor to see what the doctor recommended. That young I'd be afraid something would go wrong in the digestive track etc. I hope your niece will be okay.