What is the best HYIP site?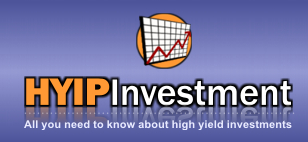 Costa Rica
March 28, 2010 11:03am CST
Hi mylotters, I am new about online investments. I was reading about HYIP sites, and they look interesting. However, there are so many I dont know which I can really trust, so as always I come here to ask you: which are the best hyip sites you are using? are they really trust able? Please be sincere, I don't just want you to give me advertising about your programs so I join as your referral, I want you to share information honestly, and to give me the main details of your programs. PD: If you can include how the deposits and withdrawal options are for the site you are using, I will really appreciate it. Thanks.
5 responses

• United States
28 Mar 10
hyip sites are not good for earning on. alot of them are scams. there are much better ways of earning money online. i make money online playing mmorpg games. one of the games that i play is second life. you can download the free game at the website secondlife. i am sure you will have alot of fun playing this game and earning from it. i make about $8.00 every day playing this game. there are many people from all over the world that play this game. it is a legit game. best of luck with earning.



• Costa Rica
29 Mar 10
Hi, yes I agree with you, I have been reading more about these types of programs, and yes...we have to be careful when investing on them, most of them are scams, but there are a few which had been online for more than a year, and those are the one you can trust. About second life, I have heard about it, and I even tried once, but how can you make money from it? what do you have to do?

• India
28 Mar 10
Hello, There is a good hyip paying me many many times. Here is the details. http://tinyurl.com/yarwphz

• Romania
28 Mar 10
hyip sites are mostly lottery... You can get really rich if you have money to invest but you can also get really burned by losing it .... most of them exist for a period of time in wich they actually pay but at some point they just close everything without refunding ... so you need to be there and invest at the exact time and also be prepared to lose something.... and not invest everything you have.

• Romania
28 Mar 10
There is no such thing like a good HYIP site as they all ask for investments - so before you make money you have to invest and who knows if you will recover your investment or not. Put it in another way, I think that there are lot of us who use or used this kind of sites as they are providing a good ROI(return over investment) and anyone is looking to make some money with little or no investment. As for me, the only site of this kind where I am participating is HYIFund(you'll find the link in my profile)and that's only because when you sign up they are giving away a bonus of 2.50$. So, I've signed up, get my bonus and then I've waited until I've got enough money to withdraw. Then and only then I've invested 1$(that was at that time the minimum amount needed to invest so you can make the withdrawn - now it has increased at 5$ -I'm talking about investing with Alertpay, but there are some other methods, but I don't know their minimum) and after investing I've made my withdrawal(about 1.50$) so I didn't loose anything. This is the only investment site I'm participating in and the reason I've done it are in the article above. Of course, there are other sites you can invest in, but there is no one safe enough(see what happened to GeniusFunds).


• Estonia
28 Mar 10
I agree with Trykro. Good HYIPs do not exist. This is a totally unsustainable business model. They are like autosurfs - either disappear after a while, or just never pay their members. Thats why PayPal and many other online business organizations refuse to deal with them.