Did you have a near-death experience before?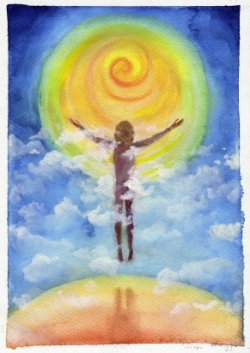 Philippines
April 5, 2010 10:44am CST
Past scenes bothered my sleep last night, a dream pictured out one particular situation that caused much horripilation. I was about to ride on a vehicle driven by my mom's friend on their way back to our hometown. For unknown reasons, I changed my mind & prefered to stay since mom told be she will catch an early trip the next day. 3 hours later, a horrifying news was announced over the radio. A vehicle fell to its passengers' death in a nearby pit. We were so shocked to have ascertained that the victims were my mom's friends who once convinced me to go with them. It was like a nightmare to me, I can't dare imagine what my fate would be if ever I was with them during that hour of accident. I cried while thanking the Lord for sparing me from such life-threatening incident. I'm so grateful for all the chances given for me to live and see more of the world's beauty every passing day.
3 responses

• Canada
10 Apr 10
I never had an experience like that. I did have what-if dreams, that what if life had gone different or what if I had decided to do something (pretty bad if the what if is if I had not done the bad thing I did, but at the time, I did not have the insight as to what would happen because I made the decision.) I did dream that I was falling a few times, or flying, but I considered those normal.

• Philippines
12 Apr 10
Sometimes I also dream like falling and it feels so true, it's kinda weird he he...

• Canada
24 Apr 10
Use to have them when I was young a lot. I do not have them now. I guess I am a bit more cautious in my dreams now. Now I dream boring dreams like my umbrella breaks in the rain, I need a new purse, I am shopping in a clothes store. I guess this means that I had better go to the Mall pretty soon.


• United States
6 Apr 10
Praise GOD Almighty Eloveriz! That U listened to GOD's whispered message in your mind and didn't go. It just goes to show that GOD isn't finished with U yet on this earth. Sorry about your mom's friends though, they with JESUS now HALLELUJAH!

• Philippines
7 Apr 10
I was spared from such tragic incident, thanks God for saving me! I haven't served my purpose yet here on earth that's why He has given me another chance to live. I shouldn't waste the opportunity and time granted. Thank you for posting here my friend!

• India
6 Apr 10
hii lol i always say things are predestined, you have to follow the track only, you were destined to avoid it.. well in 1986, i moved out in my scotter with by brother in law, it was raining, we were to go 90 kilometers, my wife, my sons denied, not to move as it was raining.. while returning, we faced an accident, i broke my hipbone, was bed ridden 18 months, but there was no scratch on body of my brother in law, tell me why this... Thanks for this nice post, cheers

God bless you.

Prof

• Philippines
6 Apr 10
Oh! that was really close...I'm glad you were able to survive, luckily your brother in law did not suffer that much. We must be thankful to God for all the chances He continually gives us. Thanks for sharing Prof...May the Lord be with you always!