What are the Vital Keys to a Happy Marriage?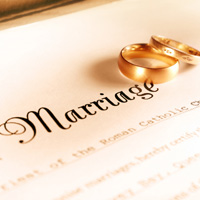 Philippines
April 18, 2010 10:21am CST
True Love is the major key in keeping the marriage happy. With God as the center of a husband & wife relationship, any couple will surely live a happy & content life together. Communication, quality time, patience, trust and loyalty are also vitally important to having and maintaining happiness in marriage. In times of troubles, problems and temptations, prayer is the best weapon to conquer everything and triumph over all these threats. My husband is away but I still enjoy being married to him, I do value each day that we talk over the phone or chat through the net. No matter the distance and time, the love and joy I feel will never change. Our baby also keeps us more lovingly attached to each other.
2 responses

• India
19 Apr 10
lol i agree with you and honor your feelings, he is away from you physically but never mentally, you can feel his love, his hugs each moment, am i right? ...

Thank you so much for this nice post, cheers

God bless you.

Prof

• Philippines
19 Apr 10
Yes prof, it's just that my heart is longing for his nearness...I'm having difficulty with this situation but at least I have my son with me who lessens my pain... Thanks for your beautiful words. Good day! God be with you always...

• Malta
18 Apr 10
I agree with you that keeping God in the centre of the union is crucial. Furthermore one other indispensable element is RESPECT and not taking the other person for grant it. It is easy to fall out of love if no respect is present. This is often caused by selfishness and laziness.

• Philippines
19 Apr 10
RESPECT - Yes, this must be present in a relationship..I think if TRUE LOVE exists, all other elements to make a happy marriage will come along. Have a good day grkelly, thanks for your great post.