Oily Sausage Rolls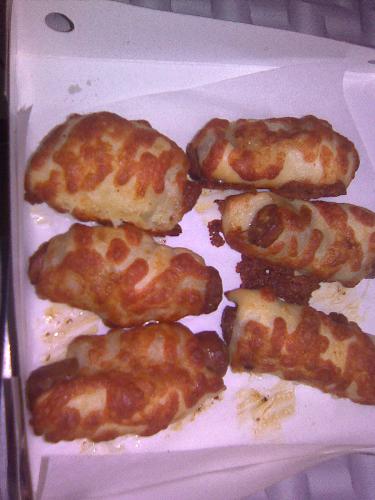 Philippines
April 19, 2010 8:42am CST
I was asked if I want something from Pizza Hut. Since I was craving for something that taste unique, I saw sausage roll in the flyer. It looked good to me. However, when my order arrived in an hour, I was dissappointed. Look at how soggy and how oily it looked. It did not looked like the one made by mom when I was a kid. I just have to eat it because I was in the hospital and was not allowed to go out while on duty. Terrible!
3 responses

• United States
20 Apr 10
Hi, mimiang. I have never seen Pizza Hut make this. I will need to try at least one of them. I don't like to eat too much of grease in my food at all. I like less grease. I don't like anything soggy either. I hope that this will taste okay. I am sorry that your order was not as you have expected it to be.


• Philippines
19 Apr 10
I think their sausage rolls are deep fried that is why it looks like it went swimming with oil. Pizza Hut likes to deep fry their food and it usually leaves a bad taste in the mouth. If I have to eat it, I roll it around in a tissue until it becomes dry enough for me to eat. Otherwise, I would puke from the oily aftertaste.

• Philippines
19 Apr 10
i know how it feels to be disappointed when it comes to food. i also have a somewhat similar experience with you when last week i ordered this yummy looking cake and i was disappointed. i actually have not tried those sausage rolls from pizza hut so thanks for the heads up so i can avoid ordering it in the future.