Is diary writing a good habit?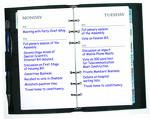 India
April 22, 2010 3:50am CST
It is an old belief that diary is the mirror of the owner of that diary. The people who are engaged in diary writing never allow anyone to read their diary. And of course it is a very bad habit as diary is 100% personal. But do you think that diary writing is a good habit?
7 responses

• Denmark
24 Apr 10
I had a diary when I was a child and a teenager, and then there was a long period in my life where I didn't write a diary. When I was 23 I started writing again, and I would say it is a good habit, because it helps me to write about my thoughts and my feelings. I also like to write about the things that happen in my life, and it is nice to be able to read about the good and the bad experiences that I have had. If I didn't write about my life, I would forget a lot of the small things, and that is another reason why I like to write.

• Singapore
23 Apr 10
It's one great way to start writing and to love writing. It helps to reflect what you have done, what needs to be improved and what problems and weaknesses need solutions. It's a great practice to rationalize things by asking questions. It's one great hobby and a pastime. Diary writing, simply, it's just one good habit.

• Australia
23 Apr 10
Yes it is a good habit. It is actually a commandment from God. If you recall in the bible times, prophets always record the events in their day. What makes it really important is when you record your faith in it. Bear witness of God's goodness to you, prayers that are answered, or simple blessings along the way. Also trials and how you conquered them. It is personal, but when a person passes away, it is a valuable memento to his/her children. They can gather strength and inspiration from your life, through what you have recorded.

• Mexico
22 Apr 10
I think it could be a dangerous habit, specially if you write down that personal something that you want to keep just for yourself. It could be dangerous because if someone steals your diary or you somehow loose it then everyone could know things that you don't want them to. But I suppose it's a good habit, at least as a memory excercise. Let's see what I have done today... :P

• South Korea
22 Apr 10
I dont know but in my casei love writting in my diary,,,lol but most of it is when im angry...i actually forgot o write when im happy... but i think its good you know.. coz not everything should be shared by others sometimes you have to have privacy:)

• Malaysia
22 Apr 10
Diary writing is a good habit because a diary provides you another outlet for you. A diary is a great listener, never scrutinize you and not judgmental. Besides, its great fun to read when you are a little bit older. Make a scrapbook diary, that would be really a blast. I always imagined in the future, my grandchildren would read my diary/scrapbook, they would have lots of laugh and know me for who I am, not just an old man who smells funny. haha. Problem is, I don't have a diary or scrapbook, I think I'm too old to start writing one

• India
22 Apr 10
People write diaries, and they do not want others to read it. They too never read it themselves. I do not what purpose it serves then. One ought to write a diary in such a way that all should be able to read it. Then only I would say writing a diary is a good habit. I never wrote a diary, tough I many times thought of doing it. I think I must start writing one.