"It takes money to save money" or "it takes money to make money"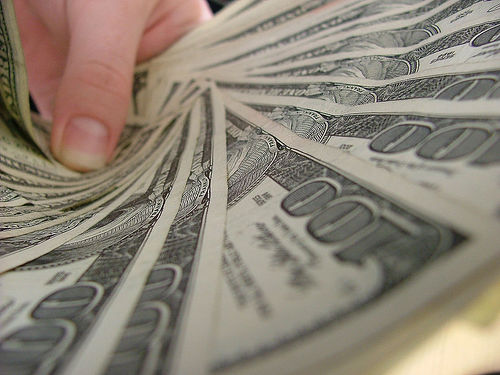 United States
April 24, 2010 8:52pm CST
I have once heard and saw both of these phrases at one time or another. These two quotes strike me as kind of funny. I'm not sure if this discussion is supposed to go under the money interest, so please forgive me if I decided to put it in under life. Life is all about money, as there is not a lot a person can do without it. One can have life without money but one cannot have money without life. =) Okay fine, the second part doesn't really make sense and is not really pertinent. I guess the point of this is that people need money to invest money into let's say stocks or bonds. Similarly, when saving on shopping a person still needs to buy the item in order to get the rebate or discount. My point is, it is possible to save money by not spending money but for some reason not a lot of people think like that. I wonder why. =)
5 responses

• India
25 Apr 10
yo eddy . i belive that IT TAKES MONEY FOR EVERYTHING..no life without money in this modern world

• United States
25 Apr 10
True that. I'm glad that we are in agreement. People say that money cannot buy happiness but I say that it sure can help. =) I guess we should ask all those rich people how happy they are. =P

• United States
28 Jul 10
A lot of people don't think that way becasue like you said with the rebates you have to buy first and then get money back. The same with coupons. There are so many coupons where you have to buy one and then get the other one free. Society has conditioned people to think that you have to spend money to save money.

• Philippines
25 Apr 10
you can save money by not spending it but making sure it remains untouched and earns a decent (?) interest is by having it time deposited in a bank. now, that takes a lot of money. so it takes money to save money. however, if you are a risk taker and doesn't mind losing coupled with the fact that you have nothing much to lose since you have money already then putting up a business can "cost you money" and if you're good at it and are lucky then you can also make chunks of money. in this case it takes money to make money.

• Singapore
25 Apr 10
Your discussion topic is a very interesting one, eddyspaghetti!

There was once I attended a seminar on how to make money with little or no money. The possibilities are endless, actually. It is just a matter of whether you want to do it or not. I have lots of ideas but I often have a problem executing some of these ideas. You can make money from NO money. Once you have some money from NO money, then you can think about investing it, I guess. With regards to saving money, it's true that you can save money by not spending, and by not spending them on unnecessary things and by looking out for ways to save on items you really need. If a person is not financially aware, they would probably not think about these things much, but for those who understand, they would try to find out more about these things.

• India
25 Apr 10
Of course money makes money, at the same time practically even the hard worker makes money, if the hard earned money is not saved, the hard workers life will be hard, making money out of money is not that difficult.