What is your DREAM............???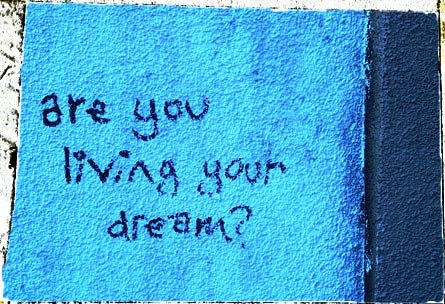 India
6 responses

• India
28 Apr 10
TO be sucessfull whatever i do.. nd i want to do sth in IT sector..

• India
28 Apr 10
great dude i wish to see your dream come true.......

• India
28 Apr 10
"You don't get what you desire, You get what you deserve..."(quoted by my boss) Why on earth did i put this quote here??...well, not everyone is living their dream,but a majority of them are working hard to achieve their "perfect life".We dream dreams, but do we see it fulfilled, not always. But that certainly should not dampen our spirits. Our dream lives on in us and it's our privilege to see it come to fruition. Keep foreseeing the dream job, dream life, dream wife and so on, don't let anything get in the way of YOUR DREAM!!

• India
28 Apr 10
truly said i also believe the same what if you dont get ......always remember that you get what is made for you......not a anything more nor less.......

•
28 Apr 10
hell0! I have many dreams just like all the people that I know and all of them are dreams that can come true and not just some sci-fi dreams like having wings, or speaking with animals. well, my dreams maybe are too simple, but atleast I have them adn I think that some day they all will come true, because I know how to make it and I fight for them every day. my first an biggest dream is to find the girl of m life, to share y life with her, to give her my love, because I really think that meeting the proper/right girl is something that happens once in a lifetime and I can't miss it. my second dream is to have my own home, with a abig yard and a summer house, a pool and many many children running around me and making me happy. And my third dream is to have my own book store, where I can sellbooks, recommend the to people and spend my time there, because I actually love books and they are my passion since I was in the primary school! so that's why I would like to have my own book store which will make me really happy and it also will make me happy to people who really like books too! so that's why I hope that at least one of my dreams will come true, because otherwise I will feel realy sad and I guess that I won't take it over!

• Belgium
28 Apr 10
Good day dear Himanshuorange , well ever since i was a kind , around my eight years old i wished and dreamed to become a great soccer player , for my favourite dream team Rapid Bucharest , but once with age dreams and wishes change's and my wishes becomed alot more simpler and easier to fullfill , now i would say that my biggest dream it is to find a way to be able to have two part time jobs and still have time to help my mother in the households and help her pay the mortage for the House and Bistro , hence she has nine more years off credit to pay for the Bank , so i guess i wish i could become a succesfull person in the future and be able in the near future to take off my mothers worry's and problems and putt them on my shoulders and ease her pain and give her a normal life , a life where she could rest more and i do the work and payments on my own , because she is the most important person in my life and she desirves more then what i wish i could do for her. Thank you for having this conversation , i wish you a verry nice day dear Himanshuorange.

• India
2 May 10
hey dude i wish you good luck in future. and remember one thing in life that mother loves you and takes your care more than anybody on this planet.....even if you count she will remain ahead of everyone by 9 months because she takes your care in her stomach before birth......you are doing the best thing i wish you best luck.....and my all best wishes are always with you...........take care.........and yes sorry for responding too late .,

• Belgium
2 May 10
There is no need to be sorry dear friend , since we are all bussy and sometimes we forget to check our email and see whats new ( like replies on discussions ) , thank you for the wishes you have , and its true a mother is Unique in her way of loving her childs and they should always be respected and love by her childrens. Have a nice day , and i m sorry too for answerring late.

•
28 Apr 10
Currently I'm not living my dream as I am off long term sick from work. But, when I am doing my job as nurse, then yes I am living my dream. I have always wanted to help people and my job allows me to do that and get paid for it too!