What is your favorite flower?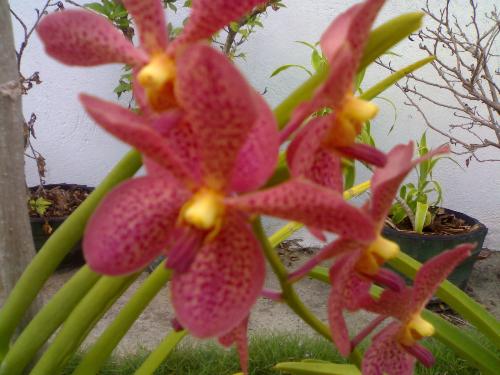 Philippines
April 30, 2010 11:52pm CST
Did you know that flowers can relieve stress just by looking at it? What wonders nature brings! Beautiful flowers make any place beautiful. We have a lot of flowers at home- and my favorite one is orchids. I like it since it has a lot of colors and many varieties. my wife also loves orchids that's why we have a lot of it in our garden. So, what flowers do you like?
6 responses

• Romania
7 Jul 10
I love roses, tulpis and lily. lily for the smell.


• India
6 Jul 10
hi... I like red Rose. I think lot of people like rose. Lot of people make a garden like rose. Good week end... Thanks Laratri

• China
22 May 10
I love aloe very much,it's so green and always looks like full of vitality,besids this ,it's easy to raise.Flowers can bring good mood,and the best place to raise them is not flowerppot but the garden.Last year my butterfly flowers growed so much in the pot and it's a little small to them,so I digged some out and planted in the garden,when autumn came they growed so tall than the pot's.I have not imagined the nature soil can bring so strong and so exuberant flowers.

• Philippines
1 May 10
I love sunflowers and tulips.sunflowers are cheery.they remind me of a calm,bright day, with lots of clouds rolling in the sky and birds flying and chirping.tulips remind me of a fresh,clean setting.when I see tulips I feel like I'm walking in a field where there is fresh air and cool climate.