paypal to smart money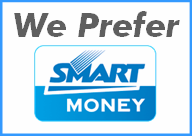 Philippines
May 4, 2010 10:06am CST
I want to withdraw my earnings in paypal but I don't know how I don't have any credit card.. smart money only, can I withdraw it directly on my smart money? I'm in Philippines.. Happy myLotting.
3 responses

• Philippines
4 May 10
since you already have your smart money card then you can use it to verify your paypal account, make sure to have more than a 100 pesos in your smart money coz they will take some money from it to make sure if its really your account though they will also returned the money after few days after verification. paypal will send pin code for that and just call smart money hotline service to trace your transaction history and ask them if theres a history from paypal and if they can give you the number, i forgot if its 4 or 5 digit number, just ask them if theres 4 or 5 digit number there for a certain amount deducted by paypal and then login to your paypal and enter that number to finalize your verification. then once you already verified your account, you can then withdraw the money to your smart money.

• Philippines
5 May 10
using smart money is just for verification purposes only, you cant withdraw funds from it.. but if your using e currency like liberty or alertpay you can try using pinoygoldexchange services, you can withdraw you funds directly to your smart money, western union or bank account.

• Philippines
4 May 10
the best way to withdraw your earnings is thru unionbank eon card its not really hard to apply for one and the approval time is also short you need to wait atleast 1 week.. its the cheapest way to withdraw money here in the Philippines.

•
28 Aug 12
I've read several posts on the internet that we can actually withdraw PayPal funds to BDO using Smart Money. Smart Money and BDO are connected. It's actually better because there is no annual fee and only P5 withdrawal fee. Haven't tried it though but I'm planning to apply for Smart Money mastercard soon.