Who is more handsome - Brad Pitt or Tom Cruise?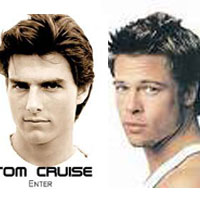 India
November 16, 2006 9:07am CST
They r the most handsome men in hollywood. Who do you think is better looking? Is it Pitt or Cruise? My personal vote goes to Brad Pitt. I think he is more manly n handsome than Tom. What do u think...and why?
4 responses


• Canada
16 Nov 06
They are both too old for my liking. But if I had to choose I would pick Brad Pitt, he is better looking. Tom Cruise reminds me at times of Micheal jackson. Except he already has white skin. Tom is all into that scientology stuff, which is fine, but he doesn't have to push his xenan or whater on everyone else, including his wife to be poor katie.