who gives you inspiration........??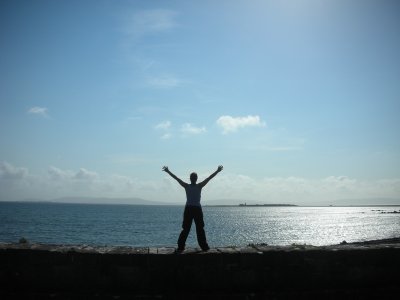 India
May 7, 2010 12:48pm CST
well this is the best thing ever happens to somebody in life because it changes the life for ever....yes the inspiration.......... it happens when you like someone so much that you just wanna be like that person .in everything and also you respect that person too much.......so ....... whose that person that has inspired you the most.........
7 responses

• United States
7 May 10
The main people that inspire me are my daughters, my mom,my husband and most of all my grandmother. My grandmother has a heart of gold and would do anything in the world to help anyone. She has the most loving heart anyone would ever want. And my mother has her heart.

• India
7 May 10
great i really wanna meet your grandmother i wish her long life with happiness.......take a good care of her.......

• United States
7 May 10
My mother is still alive. But my grandmother passed away 3 years ago. And it has always been had to get over since she passed away. I have always done everything I can for my grandmother. Since she is gone now. I cherish my mother and do what I can for her and spoil her just like I did my grandmother.

• India
7 May 10
oh it was sad to hear that .....well then take a good care of your mother .....because mothers are always very lovely.....they love you so much that you cannot even imagine by by good night......

• South Africa
7 May 10
Sweetie, i like myself as i am thank you. But to get to the point. My mother is my inspiration in life.

TATA.

• India
7 May 10
great .........hey i like your TATA sign at the end of every message you type........it is nice by by

• Philippines
8 May 10
My main inspiration is my family. I am doing all the things that I do now for them. I am studying real hard so that one day, I could find a good job, earn well and help my family to have a good life. I don't know what I will do without my family. Every time that I am experiencing difficulties, I just remember them and I become strong to face whatever obstacle may be on my way.

• India
8 May 10
great man i really appreciate your response ...your family is the best inspiration keep it up ...........

• India
7 May 10
i take inspiration from many. those are many times my parents. and in some cases people around me. who are successful or very consistent in their work. i think to get the stability in any field there is a consistency needed more than any thing after some time you will be able to make your position there.

• United States
7 May 10
there isn't someone i want to copy. but there are plenty of people that have inspired me to great things. Oprah is one. I love that she can touch millions of people every single day. My daughter has inpsired me to start my own business just by being the sweet child she is. My boss has inspired me to keep learning and laughing and just smiling. there are some amazing people in my life who have inspired me in many ways. I am just grateful to all of them

• India
8 May 10
thats a great thing that you got inspired by many people in life .....keep it up it will take you very high........

• Bulgaria
7 May 10
My inspiration is not a person I want to be a copy of but in fact a girl who is almost the same as me.When we are both together we are the most happy creatures on the Earth and we have the energy to do everything we are asked to.This is called an inspiration believe me.When we are separated even for a few days we both become less energetic and more sad.

• India
7 May 10
hey that is nice good relation b/w you both girls but dont you think that it is just like an addiction ..... i mean if your saying that you both feel less energetic......ok take care........i like your inspiration never wanted to hurt your feelings .........by by always take care of your inspiration........

• Philippines
11 May 10
My family gives me inspirtation.. They are the reason why I'm pushing myself to go beyond my limit. Trying to strive as hard as I can for me to help them and help each other. I know my mom just wants a simple life but I want something more. I want them to grow old and be able to see the world. I know it's going to be a bit impossible to do but I'm still very positive just a trip around the country would do.