My discussion deleted because - Excessive punctuation !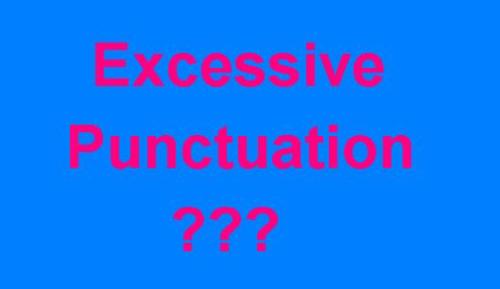 India
May 15, 2010 12:00am CST
Last month seven of the discussions that I started got deleted . I was wondering why that happened . As my daily routine , when I went to check my gmail inbox , I got a notification from myLot . When I read it , I came to know that my discussions were deleted because of excessive punctuation . I never expected that my discussions would get deleted for this reason . And goes down my mylot reputation from 65 to 42 . And so have my earnings reduced . MY QUESTION TO YOU GUYS IS : HAVE ANY OF YOUR DISCUSSION HAD BEED DELETED FOR THIS REASON AND WHAT IS THE MOTIVE BEHIND DOING SO ?
2 responses

• Grand Junction, Colorado
15 May 10
No I have never had a discussion deleted (permanently) may I suggest that you go to the discussion guidelines http://www.mylot.com/o/guidelines.aspx as it states under the DONT' s- Use all-caps or excessive punctuation. It's 3rd from the bottom. Knowing what's in the guidelines can help you, to prevent this from happening again. I point this out as you state "I never expected that my discussions would get deleted for this reason." That's why it is so important to know what's in the guidelines. Refer back to them often or when in doubt about something. Happy Mylotting!!!

• United States
15 May 10
Nowadays it seems as if places are being stricter about the quality of grammar and punctuation within written products. This is essential as some people have become lazier about punctuation and grammar.