Usain Bolt Is Still The King Of The Century Sprint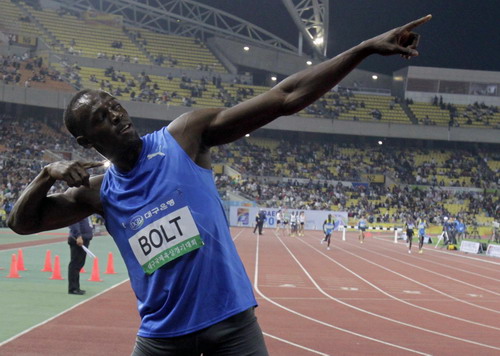 Singapore
May 21, 2010 2:45am CST
Usain Bolt is still in the class of his own as far as the century sprint is concern for this year and years to come. On Wednesday, Usain Bolt won the 100 meters in 9.86 seconds in his season debut at the Daegu meeting, in South Korea. His time was 0.28 seconds off the world record of 9.58 he set at last year's world championships in Berlin, but he shaved 0.08 seconds off Tyson Gay's 2009 meet record of 9.94. After the meet, he discloses that there's a high possibility that he will set a new record to this event next year. His current world record time is 9.58 seconds and improving this mark will just make him the hardest man to beat for this event and for this decade. Totally awesome and invincible. Come this Sunday, he will be competing at the Diamond League meet in Shanghai and I just cannot wait to see what he will clock there. He is certainly the man to watch! I am really wondering what his new record timing will be. Any idea or speculation here? Ref: http://www.chinadaily.com.cn/sports/2010-05/20/content_9872181.htm
1 response

• Jamaica
21 May 10
We are so proud of him on the Island. He came from a deprived background but when his ability was seen then he received help from government so that he would be looked after and not want for anything. His 6' 5" height now is going for him instead of against him. I understand that he has/had ADHD (this was diagnosed early and treated). His mother would tell him to deliver a message to an auntie in another village about ten miles away just for him to use up some of his energy. So he used to run the ten odd miles and back without any difficulty.

He is just full of exuberance and joy of life. A gentle giant. He loves doing what he does and whatever he does from now will be icing on the cake.The pose that he strikes was really part of a local dance called the 'gully creeper' but now he just strikes the pose as 'lightning ' Bolt. Go lightning go!



• Singapore
22 May 10
cynthiann, I have seen and followed the developments of this track event and I must admit that Bolt is indeed a phenomena for this century. The greatest athlete ever produced and it is not only a privilege but utmost joy to watch him blitz down the tracks. I hope that we can see more of him and that his form will carry him through to the next Olympiad in London, U.K. So, Go lightning Bolt!