What is your first thought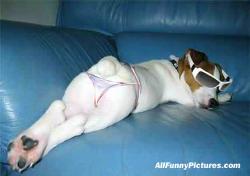 Canada
9 responses

• United States
16 Nov 06
How digusting. Why would you post that and why would you dress your dog up like that? God Bless


• United States
16 Nov 06
Adorable...hehehe, thought it was a women at first.


• United States
11 Dec 06
Dog butt! That's really just wrong. People that dress their dogs up in little doggie clothing annoys me. Except goggles. This guy at this bar had a dog wearing goggles. That was cool. But mini skirts... and thongs... that's just wrong.

• Canada
11 Dec 06
There is this lady that comes to the store where I work at least once a day, and she has this poodle, it is pathetic, boots, coat, diamond collar and the whole nine yards, the dog doesn't even look comfortable, or real for that matter. I swear if I could have read that dogs mind I know it would be saying shoot me please.

• United States
10 Dec 06
dude! you got some issues. Wanna see if we canget to the bottom of it? LOL