Can Can Skirts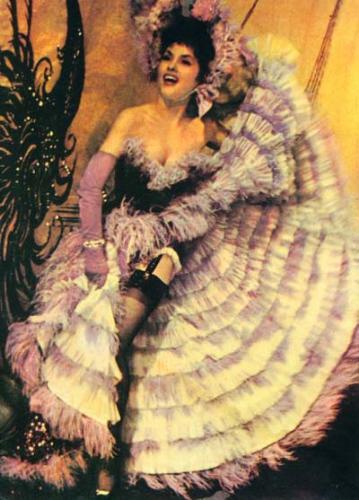 India
June 28, 2010 2:00am CST
Fashions do get recycled but I have not seen can can skirts having made a come back. In the good old days one had to buy yards and yards of material to put together a can can skirt and some buckram fabric to go with it.This fashion lasted for several years but now it seems it has vanished. Do you remember wearing can can skirts and would you be happy if the fashion came back?
3 responses

• India
28 Jun 10
Te time they invented can-can in the year 1830 they had not invented the drawers. When cancan first appeared in working-class dance halls in the 1830s, drawers were not a standard item of underwear. All those who have watched girls performing can-can they also remember the main moves are the high kick or battement,i.e., quick rotary movement of lower leg with knee raised and skirt held up.

• India
29 Jun 10
Those must be cabarets achilees. I am referring to ordinary people wearing them. This was in fashion for quite awhile but I don't see them these days.

• India
29 Jun 10
Did you see the 1960 movie "can-can" starred Shirley MacLaine? In this movie, she performed the forbidden, skirt-lifting dance alongside miscast Frank Sinatra. In another movie Gigi (1958), Juliet Prowse performed as a can-can girl. This movie had one of the best numbers of Frank Sinatra, "It's All Right With Me". I think these two movies had popularized pleated skirts also called can-can skirts. These pleated skirts were in fashion until late 60's.

• India
29 Jun 10
Those days I was not much of a movie buff although I do remember these titles.

• Netherlands
28 Jun 10
I have worn a similar skirt, but it hasn't been back in fashion as far as I recall. There are styles however that show similar skirts for example victorian style clothing and gothic styled clothing. They aren't easy to make and there is a whole lot of fabric neccessairy to make such a skirt. I guess that's one of the main reasons it never made a comeback; the quantity of fabric envolved to make it.

• India
29 Jun 10
Normally fashions to get recycled but this one is not to be seen. May be because it takes a lot of material and quite expensive too!!