is swimming is necessary for our health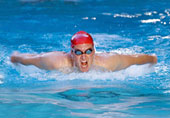 Pakistan
July 4, 2010 10:38pm CST
there are many ways to protect our health from desease and become healthy,because in healthy body a healthy mind lies.i think for health swiming is very necessary by it our body become strong.friends what you say?
4 responses

• India
5 Jul 10
Yes swimming is very good exercise for health. half an hour of swim can burn 300 calories of food. By doing regular swimming there is lot of flexibility in your body.


• Singapore
9 Jul 10
sufyan8, Swimming like every other exercises are good and beneficial for our bodies and health. However, being that it is physical in nature will only be beneficial when we approach and engage it in a sensible and moderate way. For one, we will need to be physically fit to engage in this form of exercise, which means the necessity to have ourselves checked out for preexisting medical or health conditions. Then, we will need to exercise within our physical limits and to accompany it with necessary warm ups and healthy diet habits to avoid potential injuries and hazards from damaging our health and bodies.